Often, the mom's desire for constant contact with the child is the reason that the baby cannot or does not want to do most of the basic things – wash hands, brush teeth, get dressed, etc.
On the one hand, this every time confirms the fact that the mother is a stronghold of permanent assistance, and on the other, the reduction of the child's desire for independence.
If you choose exactly what she wants to wear, the daughter of the beginning of the year at 2 (it was then that she had a sharp shift towards skirts, dresses and pink), then the desire to dress on her own came a little later.
The daughter went to kindergarten at 2.3 years, and that was when her first attempts at dressing herself began. Moreover, in the group she had a little more than 20 children, so they could not have time to dress all the nanny with a tutor physically.
Within a few weeks, the baby could put on simple things – a skirt, socks, and a hat.
Of great importance is the clothing and shoes of the child. Undoubtedly, the strings and buttons are beautiful, but the kid, whose coordination of movements is not yet established, is very difficult to cope with small details. Do not forget this while shopping.
All shoes have a daughter with Velcro and zippers, even now, when she is already 4.5 years old. She first learned to wear crocs, which was very convenient, because she preferred this shoe both at sea, in the country, and in kindergarten.
True, we had some shoes with laces: beautiful, branded and expensive. But despite this, it is completely useless and inconvenient – the laces will untie, then get confused.
The choice of clothing also has its own subtleties. Try to make it different from the backside (in drawing or color), do not be lazy to repeat the explanations several times.
It is convenient for the daughter to navigate through the tags, for a long time she clearly knows that the label or print should be behind. This we all know that on sweaters the high collar has a seam on the left, and children are so uncomfortable to memorize;)
The first time I did the appropriate tags and on the shoes – at first it was the letters L and P written with nail polish on the sole. Then we just put a dot on the right product.
On the other hand, it's not too fanatical to make the process easier. For example, my girlfriend constantly buys her son's pants without buttons, zippers, and even buttons (he has everything on an elastic band). As a result, in his almost 5 years old boy can not cope with ordinary jeans.
Theoretically, in 3 years the daughter could easily get dressed independently from panties to hats. And almost all of this happened so slowly that I, like many mothers, preferred to do everything myself, because I do not like slowness and lateness.
I can not say that it was a disservice, as many child psychologists believe. They say that a child cannot make decisions himself, not strive for independence, etc.
Now, when my daughter has already fully mastered the buttons, zippers and other uncomfortable trifles, I, of course, give her the opportunity to dress on her own. Moreover, she does it at about the same speed as me, and sometimes even faster.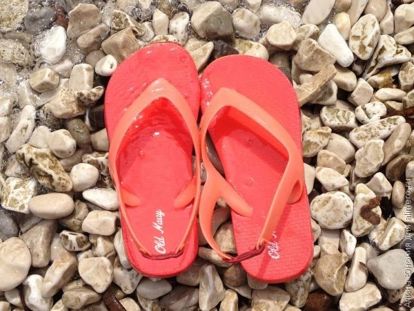 Another thing is that I like the very process of dressing my beloved baby. However, you can do it together.
In no case can not scold the child if he does not get something. And even more so to use the labels of muddler, clumsy, etc. So you do your own hands discourage the child to dress. Otherwise, why do what mother scolds for?
Like any other occupation, this process can be turned into a game. For example, we often dress in races or set time limits ourselves – until the end of a cartoon, a wash, or a timer call.
When the daughter did not want to dress, I always explained that the longer we stay at home, the less there will be a walk. One day, I even had to go for a walk, but this was the only time that there were no more reminders for dressing.
And at what age did your children start to dress themselves?