So it turns out that our daughter communicates with me much more than with her dad. Dad goes to work early, when Katyushka is still asleep, comes rather late. In the evening, Kate sees her father for only two or three hours, and then it's time for her to sleep. But even in these hours dad is busy.
Naturally, Katyushka literally walks on the heels of her father: she clearly lacks communication with him. I also had such a problem in my childhood, but I could only realize it myself by the age of fifteen. Parents for some reason did not see such a problem.

In life, everything is repeated

I remember that then we had a serious conversation with dad. Thanks to my father for understanding me, and not only understood, but he was able to change something. Dad came up with a brilliantly simple way out: he started a tradition to play something every night. He taught me how to play dominoes.
Most often we played exactly dominoes. And mom gladly joined us! Half an hour is enough to play a domino game. But over the course of these half an hour, sometimes the most difficult issues were solved with ease in a relaxed atmosphere!
Until now, I remember with warmth those times when in the evenings we all played dominoes together. Let me tell you a little secret: we still sometimes play with dad at him when we need to discuss something.
And now the problem of lack of father's attention appeared in my daughter. I asked my husband to give her a little time every night. He tries, but he really does not work: he took an urgent work at home, he repairs his car in the garage all evening, he needs to stop by his parents.
Only weekends are relatively free, but we also postpone so much for them! Of course, he communicates with his daughter, plays with her, goes for a walk. But Kate is clearly not enough! The child grows and requires more attention than before.

Play again

We seriously talked with my husband on this topic. I suggested he start a family tradition every night to play something. I kept silent about the fact that my parents and I played dominoes in the evenings. After discussing which game you can choose to start with, we stopped at the puzzles.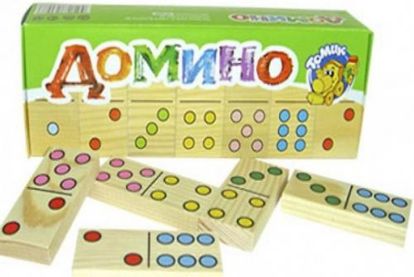 The husband promised to go to the store and pick up such a puzzle, which he would like. The next day, when he came home from work and had dinner, he happily informed us: Girls! And I have a surprise for you! With these words, he pulled from his pocket … a box of children's dominoes!
What's this? Such puzzles? – I said. Mama! What jigsaw puzzles! This is a domino! – happily reported Katyushka. To put it mildly, we were both surprised. When Kate saw that the domino was childish, she was clearly disappointed: Fu, this is not real, with pictures. Grandfather has a real one with dots!
For me, the situation has cleared up. However, that evening Kate played dominoes with her dad, teaching him the rules of the game. A week later, my husband bought a real domino (it turned out to be difficult to find), and now they play one game every night.

What gives the game to the child and the father

Sometimes I play with them, but it happens rarely: I try not to disturb them. They play for 20-30 minutes, but this game gives Kate the opportunity to communicate with her dad exactly the way she wants.
And one more important point. My husband once said that during the game he realized that his daughter's perception was slightly out of date: his daughter was older than he thought. So the game has become for both of them a necessary and exciting pastime.