I have a suspicion that there is no child in the world who will fall asleep worse than my eldest daughter! She is a real champion in falling asleep!
In October she will be four years old and I want to tell you that during these few years my husband and I have already tried many tricks to quickly put her to bed. But the perfect recipe was never found.
With kefirchik and in the chair
Kira is a long-awaited child, very beloved, but at the same time completely unbalanced. My husband and I are raising her and the younger daughter to the extent of strictly, fair to them and, I think, sometimes we are very loyal. So with a dream.
When she was breastfed, there were no problems: she fell asleep under the breast, I put her in the bed and all the happiness.
But when the daughter became older and instead of breast the daughter preferred a bottle with kefirchik, the first difficulties arose.
We didn't want to fall asleep in the crib, we don't shake her in her arms, because the girl is heavy. We had to go on tricks, and we were rescued by a highchair.
Suddenly, yes? Everything is simple, in fact. He was on wheels.
Back – in the prone position, the child was laid, shook back and forth and everything is wonderful again. The child is sleeping.
Maybe some mothers will convict me, but she even had a nap in the chair. Well, it was convenient for the child. In the end, if I felt uncomfortable, I would not sleep there so hard and long.
Massage and books
And then she tired of this attraction. And we began to lay it with massages. Rails, rails, sleepers, sleepers, the train was traveling late … remember this? I thought I was going crazy, because sometimes I had to do-tell 40 minutes or even more.
As a result, even here my own technique was found: when entering the second round of the story, the voice is quieter, the movements are slower, the pace of the story is also slower … and I fell asleep. But over time, and it bothered.
After it's time for books. Here, too, not everything was perfect. They could be read for almost an hour, but no one fell asleep. More precisely, I fell asleep perfectly! I love to listen to how my husband reads books to children.
However, she noticed that some poems are very meditative, and by the third or fourth reading of them the child was curled up.
Bug work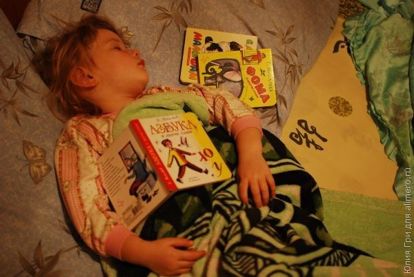 In general, all these layouts somehow didn't really help my child. There were sometimes screams on my part (well, not nerves with iron) and a strict tone.
All without success. Here she is until the last moment struggling with sleep. Whatever tired she was. It will spin, spin, invent something, but just do not sleep.
I have worked on mistakes many times and understood one thing – there is no discipline of sleep. Somehow it turns out that the laying time is stretched from half an hour to one and a half.
There is also no ritual that is so important to children. In general, there is work to do. In the meantime, we continue to read books, sing and just want to add – to dance. By the way, we have not tried this yet.
How do your children fall asleep? Maybe someone has a great proven quick-recipe recipe?