Summer is a sunny season for vacations, trips, entertainment and, of course, swimming in various water bodies. What a happiness for the first time to show toddler the sea, or splash around with an enthusiastic kid in a river, teach a crumb to talk on the lake water or cool off on hot days in the pool!
But no matter how hot the weather is, it must be remembered that a child's body, capable of more rapid heat exchange than an adult, always has the risk of being supercooled in water.
My daughter and I recently opened the swimming season of this summer. The trip to the sea is still ahead, but for the time being they have been working out tactics of behavior on the river in the village.
How to avoid hypothermia?
From the height of time spent on the water with my daughter, including work on the bugs, I made two main conclusions on the prevention of hypothermia.
First conclusion: water treatments should be limited. I remember how here, on Alimero, I praised the girls that last summer my daughter calmly left the sea. She was a year old, and now she is two, and you cannot pull her out of the water! And it is necessary to withdraw.
At first this ended in sobs with us, and then I got to find a decent excuse to get ashore. He threw out pebbles at water, or offered to chew something delicious.
Conclusion two: in the water you need to constantly move. Anuta, of course, liked to relax on the water while I was pulling her hands, but I quickly swept away this way of swimming.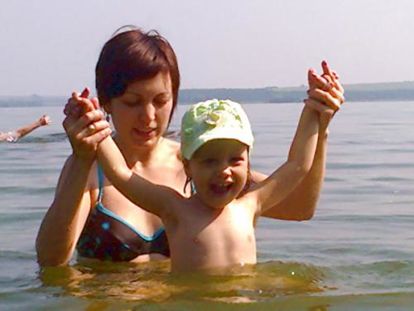 We jumped in the water like bunnies, made big splashes, were motorboats, but most of all we liked to quickly and quickly run out of the water and run back again.
Caution – pool!
It was the pool that became our mistake, which led to a supercooling and even a small cold of the baby. In one of the especially hot days, we decided not to go to the river, so as not to overheat on the way. In the courtyard in the shade of the trees put a small pool.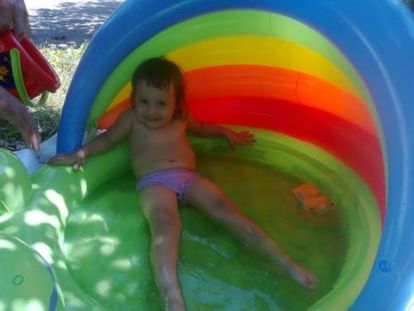 Annie happily basked in a bright pool, poured water from the tank into the tank, right there ate peaches. It seemed that in such a heat it was impossible to cool even in water. But when I began to take my daughter out of the water, she said that she was cold!
Cool – what to do?
Usually, a child can see that he has already bought up and froze – his lips turn blue, his skin is covered with goosebumps, there may even be a slight shudder. And it happens, as in our case, that even without these signs, the child is overcooling.
The first thing to do is to wipe the child with a dry towel, and it is better to even rub it slightly. Put on dry clothes, stand with him in the sun, so he warmed up.
In the near future it will be very effective to give your baby a hot compote, after putting more raspberries there. So did we. And although the nozzle still appeared the next day, we can say, got off with a slight fright.