Yesterday I sat and thought what to occupy the children. They did not go to the kindergarten, so it's necessary to do something at home. We made plasticine, made applications, and then our son began to play animals. And I got the idea: animals can make a town!
Joint crafts with the baby is not only an interesting pastime. I made sure that this is a great way to entertain the crumbs, to develop their imagination. My children responded with interest and joy to the proposal to build a small town for animals and figurines from Kinder Surprise.
We regularly build houses together from the designer. We have both a plastic constructor and a wooden one. But this time I wanted something unusual. So we built a house from a wooden constructor, painted a road, a pedestrian crossing and many other things.
To create the town we needed:
– a list of drawing paper (you can replace it with a piece of unnecessary wallpaper, I had a large sheet of timetable for classes),
– watercolor paints, brush, water,
– color paper and cardboard,
– toy animals and figures with Kinder Surprise,
– decorative palm trees, fence, road signs,
– pencil holder (castle for princesses),
Our main task in creating the town was: everything should be simple and original. Using scissors, we managed to cut triangles together for a multi-colored layout. Veronica made grass green from paper.
First, we spread a sheet of drawing paper and began to think where and what we would have.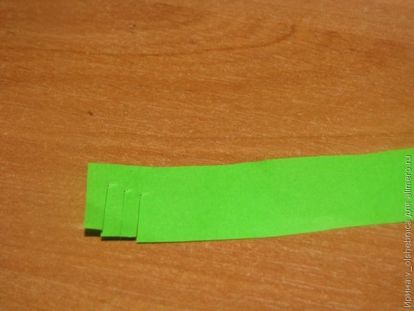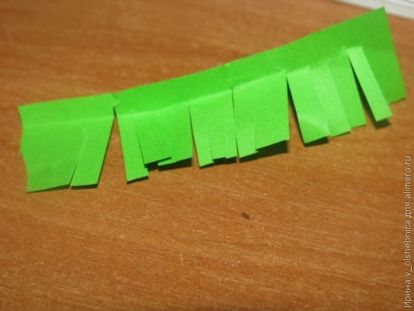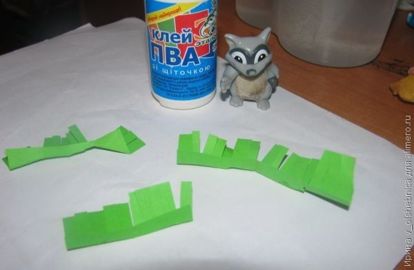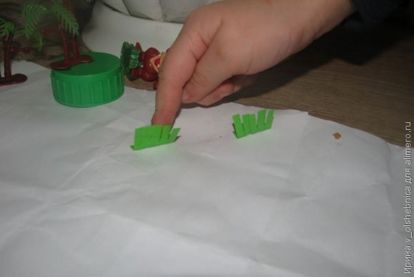 With the help of PVA glue, the daughter gently glued the weed to the paper.
Tropics daughter decided to surround the green: painted the paper green paint.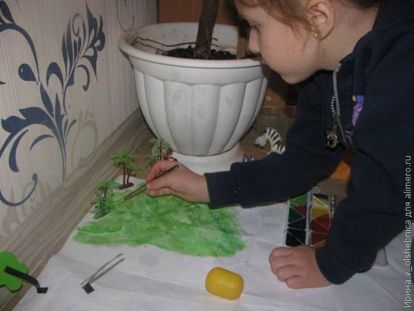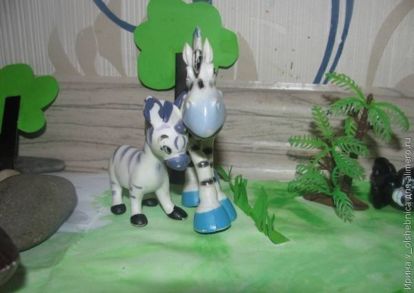 And they began to live with us in the tropics zebra with her baby.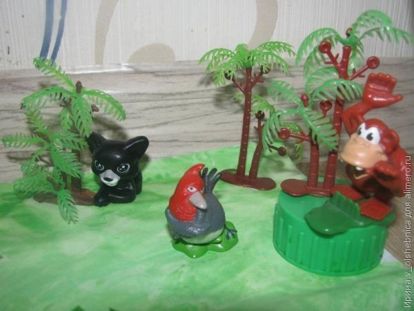 Under the palm tree cunning black panther lurked. Nearby, a flirtatious tropical bird looks at us coquettishly. And also, under another palm tree, a friendly monkey waves to us 🙂
Began to invent the concept of our city further. Together we decided with our daughter that we must have a farm. It must be a reservoir. Make it simple: you can simply paint a lake with blue paint. And I decided to take a toy dressing from the doctor's child kit.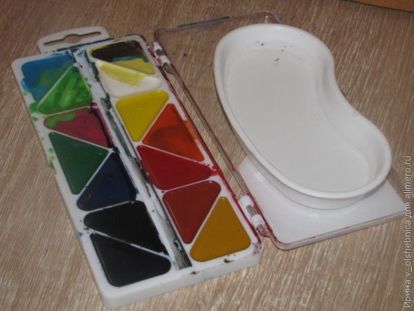 Poured water there and added blue paint. Stir the brush.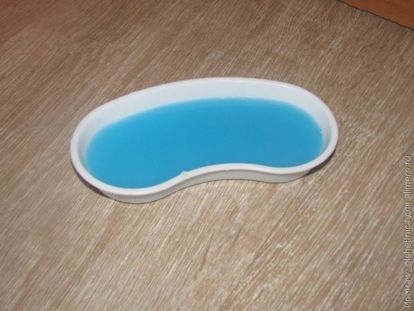 I cut out thin stripes of black cardboard. This will be the trunk for the tree. And from the green paper I cut out the crown of the tree.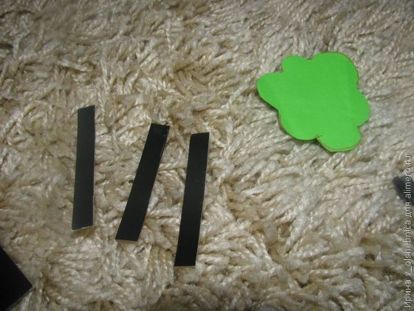 Glued these two parts together with white glue.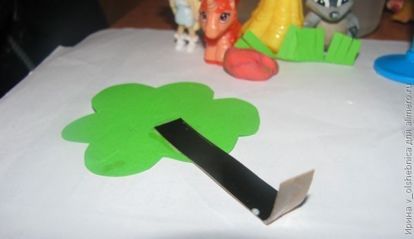 Glued the resulting trees into the meadow. Put the pond. Immediately the goose climbed into it.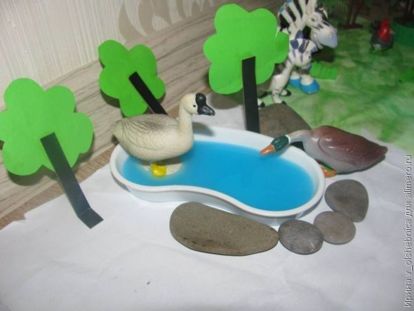 And the duck came to drink water. Lake overlaid with pebbles, for beauty.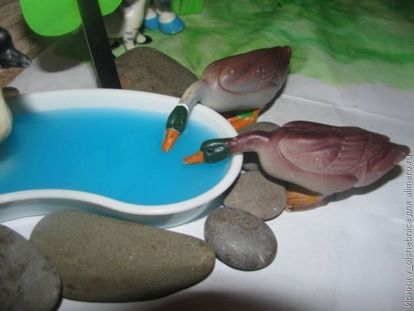 The designer has a fence. We borrowed it for our town.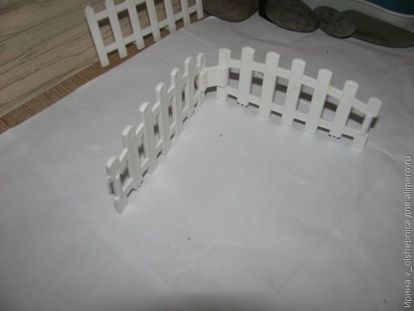 Behind the fence we have a small chicken coop. We do have a chicken coop. My daughter ran there and took the grain from the hens for her toy hens, the rooster and the turkey.


They love corn, and geese and ducks (as it turned out) eat millet.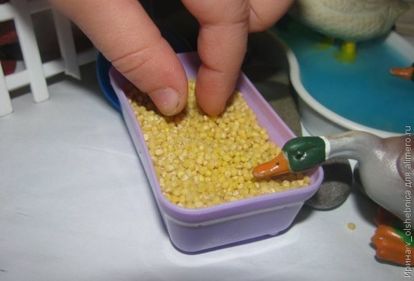 We have a pencil in the form of a castle. But in our town, she played the role of a castle for princesses and one cute unicorn.


And in the castle live figures from Kinder Surprise: Snow White and Cinderella.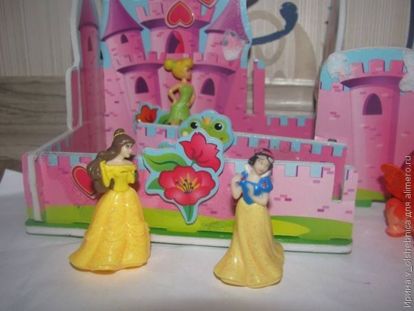 We drew the road in black pencil. Santa Claus is driving around her in a red car.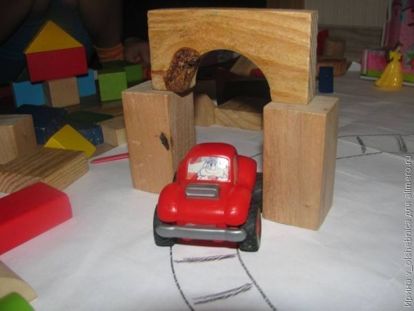 He drives past a wooden town.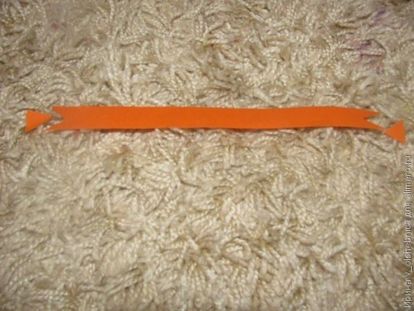 From the paper of orange color we made the sign Our Town.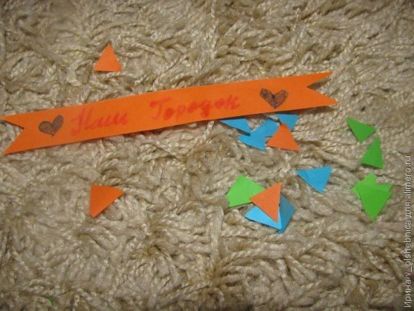 And from the small multi-colored triangles and white thread layout for the park.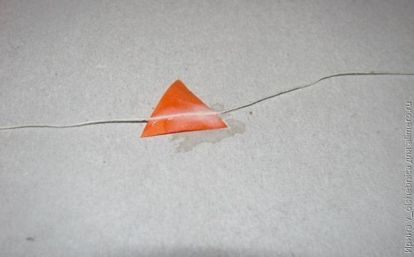 I affixed our town with glue on ice cream sticks. At the entrance there are 2 watchdogs.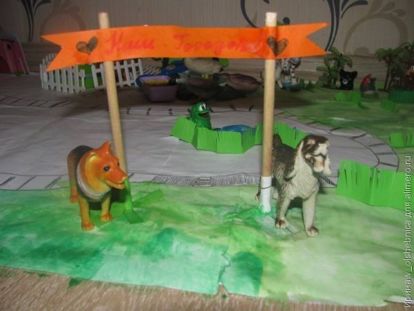 In the park there is a small lake painted in blue watercolor. There is a bridge (a detail of a wooden constructor) on which a smiling frog sits.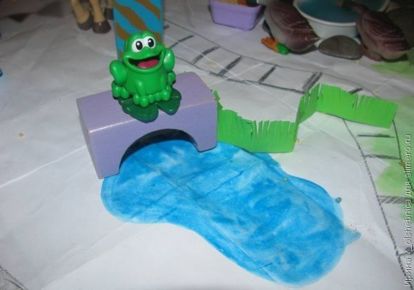 The park has a pedestrian crossing and a traffic light so that the animals can move freely.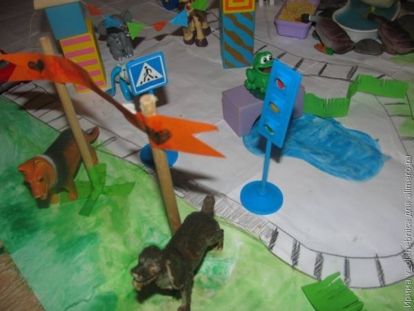 And the animals ride around the town by car.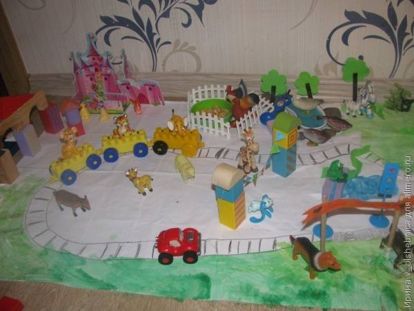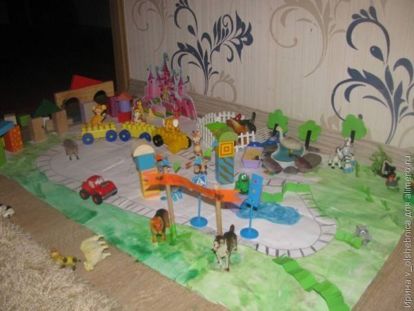 Here it is, Our town. Did you do something like that? I look forward to your comments and feedback. Tell me, what else can I add and improve our town with something?