I love to watch my kids do it. They draw with pencils, felt-tip pens, paints. The younger one gets only blots, and the eldest daughter draws something interesting already. And they love to make applications. It is worth noting that they are doing quite well.
Acquaintance with scissors
I was afraid to give the scissors to my eldest daughter. It all seemed to me that she was stupid for this. But then I realized that it was possible to give her cut circles, triangles, squares before. Just be sure to watch her closely.
A son, watching his sister, demanded scissors and began to cut the paper. The use of scissors requires special skills from the kid. For many babies, it can be difficult at first to cut something. They just have to use all the fingers of their hands in a non-synchronized manner. Each finger does its job, so fine motor skills develop.
I do not know at what age you need to give the child in the hands of scissors. It seems to me that this can be seen in the children: some are interested in cutting out figures and making applications in 4, and in others it is interesting in 1, 8.
The son is now shredding the paper. Of course, it doesn't cut out his figurines. He is amused by the process itself: 1 large sheet of paper can be crushed into small stripes and particles. He tries to repeat everything for his sister, but does not always work out the way he wants.
Scissors rules
When my daughter began to show interest in scissors, I decided to buy them for her. After all, in the kindergarten, they regularly cut out something and made applications and crafts. In the shops you can find scissors of any type and size. Chose those who, on the one hand, were well sharpened, and on the other hand, had rounded ends.
I told the baby that scissors should be used only for the intended purpose: that is, for paper cutting. She explained that it is impossible to cut such things as clothes, tablecloth, hair. She also forbade running, walking and playing with scissors in her hands. She took the scissors in her hands, she sat at the table and cut the paper.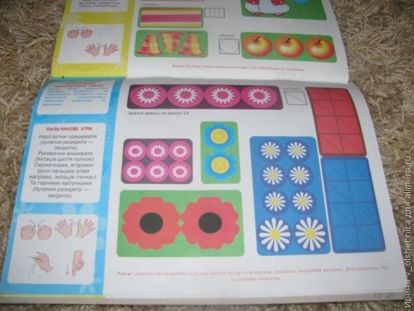 How to teach a child to cut with scissors
Before giving scissors, you need to make sure the ability to coordinate movement. I think it is worth playing with the child in fun educational games that improve visual coordination and improve fine motor skills.
You need to train your fingers so that they are strong. We tore the paper into small pieces. They made different applications, funny crafts. It develops fine motor skills of the child. Using a hole punch, you can make holes in paper. In this task, you need to apply force, which means that the fingers and hands of the child are trained, become agile and strong.
Finger games will also come to the rescue. It is necessary to use the handle crumbs to the maximum. When he learns to work with all fingers at the same time, you can give scissors. He has to keep them right. I give a sheet of paper, and the child automatically correctly takes the scissors into his hands. So we learn to cut shapes of different shapes (squares, triangles, ovals), cut the paper in half.
And how did you learn to use scissors? Do you like to do applications? Share your experience.