This weekend, for the first time, my daughter was lost in a supermarket. Previously, she always walked beside me, hung on a trolley, or helped select foods. And this time I rushed off somewhere, I didn't even notice in which direction. In general, while I was looking for her, there was something to think about.
Emergency situation
We came to the mall with my father and daughter to buy her a March 8 gift – a bathrobe. First we looked at what was in the supermarket. Looked cute yellow robe with eared hood. But then they decided to go to the children's stores, see what is there.
Only ponchos were sold there, and twice as expensive. Therefore, we decided to return to the supermarket. By the way, quite large. My daughter heard conversations, knew that we were going to get a specific dressing gown for her. I took the decisive step as the joy of a future purchase. And in vain.
Having reached the bathrobes, I began to choose the size. Out of the corner of my eye I saw a dad hanging around. Chose 30 seconds, no more. I turn around – Dad is, but there is no child. In the whole row and in the nearest ones, it also did not appear. Then we decided to split up and began to comb the ranks apart.
After some time I look, our dad is walking, leading the child by the hand, and she happily jumps up the road, although the tears in her eyes have not dried out. When I asked her where she had run away from us and why, my daughter immediately recalled the tragedy and explained in a voice trembling with tears: I myself wanted to choose a robe!
Logically, how could I not have guessed? I do not know how the other children, but my child, if he decided, then goes to the goal with a tank, ignoring everything around. She decided to choose by herself – she ran ahead of her parents. And it does not matter that she does not remember where these robes are located.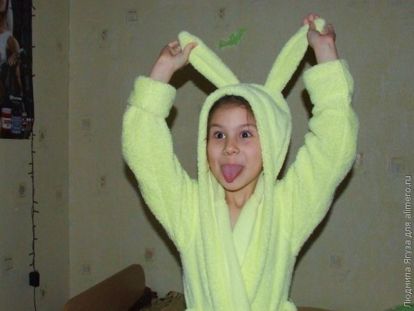 Lesson for mom
While I was running and looking for my child between the shelves, I scolded myself ten times for a lot. I had a thought to tell a child how to behave when she was lost. No, she knows the address where we live, the name of mom and dad. But how to behave in a situation when there are a lot of people around, unfamiliar terrain, but parents are not visible – they do not know.
Therefore, the first thing I did at home – instructed the child. If she suddenly realized that she was lost, you need to stop at one place and wait for your parents to find you. It is good that this time the guard stopped her, and she waited for him near her father.
The second thing that reproached herself was hoping for dad. I decided that since I was choosing the dressing-gown, then dad should logically follow the child. What was there in dad's head, did not clarify, but from now on I will rely only on myself.
And third, you should always monitor the behavior of the child. If I were more attentive, this determination would not escape me. And the unpleasant consequences could be prevented.
Of course, the child also received his lesson. I hope to remember him for a long time. In general, for the holidays we received not only a luxurious bathrobe, but also a lot of life experience.
Did this happen to you?