When we went to kindergarten, I was faced with such a problem as the child's unwillingness to wake up in the morning. In general, we loved to sleep until 9, and here we have to get up at 7. The son is hysterical, crying, turns over on the other side.
As a result, I persuade him for half an hour, and we are late in the garden for exercises, we have time only for breakfast. So I still do not go to work, but what will happen next?
Why not wake up?
I think that initially it is connected with the regime of the day. After all, before we got up at 9, and now two hours earlier.
And the second factor is probably the duration of sleep. Since in the evening, the son will go to bed at the same time as before, but he does not get up as usual. He lacks the amount of time he sleeps. Lay at least half an hour earlier I can not. He can spin, ask to read and eventually falls asleep at 22.15-22.30.
In winter, we followed the regime that was in kindergarten, adhered to it even on weekends. Therefore, it became a little easier, we did not wake up for half an hour, but already 15 minutes. I sighed with relief.
And in April we got sick, didn't go for a long time, then went on vacation, now everything is the same, we have returned to our first stage.
How to make sleep calmer?
Even the morning awakening depends on how the night passed. Whether the child slept calmly or tossed, whimsical, or often woke up.
In order for my child to sleep calmly, you must perform the following steps:
1) Spacious pajamas so that the skin breathes in it. My son often opens up and wakes up from it. Therefore, I wear warm pajamas and do not cover at all.
2) Bed linen should be soft. Therefore, I stroke it every time. As in principle, all things. But when she was just born small, she could not wait for when he would be a month old, and I would not iron. Here he is three years old, and I have a lot of ironing every day.
3) Before going to bed very well ventilate the bedroom. In the summer I can leave the window on airing for the whole night, and in the winter at least half an hour.
4) Sleep until 12 at night with light, and then turn on the night light. Afraid to sleep without light.
5) Do not give any fruits before bedtime, because then he wakes up at night and farts. Requests to scratch the tummy.
If these conditions are not met, then in the morning he generally becomes very nervous. True, and I, if I do not sleep well, is the same.
How do we go to bed?
Here, too, need some training.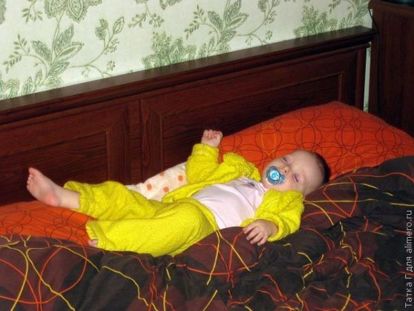 1) I lay at the same time, then it is already a habit. But if he did not sleep during the day, then a little earlier than usual.
2) Before bed, we will definitely say nice words to each other.
3) For half an hour before bed no cartoons and TV. He is then very excited.
4) For an hour, no outdoor games, running around or excessive laughter.
5) In order for us to sleep peacefully, we have to get very tired. Therefore, during the evening walks we walk a lot on foot.
6) There are secret rituals that occur day after day. Therefore, with grandmother, he go to bed worse.
7) It is impossible to lay down the procedure of laying for a long time, you can overdo.
8) Fall asleep with a light massage.
9) Fall asleep with toys.
When a son falls asleep in a bad mood, and if God forbid in tears, then he will definitely not have a calm sleep.
How I wake the child
Even when in a hurry, you need to do it slowly and calmly. I stroke him on the back, make snugs and speak softly. I ask how he slept and what he dreamed.
And there is one secret, I am massaging my earlobes. They say that there are areas that give the body a burst of energy and better circulates blood. Then we get up, go wash and brush our teeth. It is necessary to wake the child slowly, but do not let him fall asleep again, because the next awakening will be worse than the previous one. I speak now from my own experience.
How not to wake up?
1) no need to shout loudly;
2) include loud music;
3) wake up quickly, abruptly lifting out of bed;
4) to wake, abruptly turning on the light or opening the curtains.
Sleep is an integral part of the life of any person, and a considerable part of it. Even an adult very clearly feels a lack of sleep, he becomes irritable, aggressive and quickly tired. And what about the child. Therefore, to comply with the sleep mode is very important at any age.