Friendship is very important for our children, but we, the parents, of course, should help them in their first attempts to meet. The concept of friendship is multifaceted. This is the ability to share, cope with their egoism, experience, help and sympathize, be kind to others.
How to help your child build new friendships with the children around him?
It seems to me that it is on the playground that a small child gets the first skills in communicating with his peers, meets and makes friends for the first time. Here the child can no longer command, as at home, you already need to learn to give in, or you can get a shovel on the head.
I do not like yard gatherings with mothers on the bench, while the child eats sand or fights with the neighbor boy. It is more interesting for me to play with my son or to observe how he behaves in this or that situation.
It is in the sandbox, we see what our baby is. The soul of the company, behind which others are drawn, or a silent, who sculpts koloboks aside and does not give anyone his toys.
I have not known for a long time how to behave during a conflict involving my child. Suppose this situation, he plays with a girlfriend in the sand, she pushes him and picks up the machine, and he takes a full spade of sand and throws it into her eyes. My first thoughts, who taught him this, and interfere in the situation or not?
When the conflict first occurred, I did. I sat next to them and asked what was the matter (I saw how it happened). They each told their version. As a result, it was clear that the girl RANDOMLY pushed her son, and Vanya, ABSOLUTELY RANDOMLY, poured sand into her eyes. We agreed that everyone apologized and promised not to do it again.
I think this is the right solution to the conflict, no need to run up to the child and immediately beat on the pope, even if he is to blame. Because he will understand that to act correctly by force and the one who is stronger wins. It is even better to show the correct solution to the conflict a couple of times, and then just observe for yourself whether the child will use it or not. At home, you can discuss the situation and suggest how my mother would act.
It seems to me that a person's ability to meet people comes not only from acquired skills, but also from his character. There are children – extroverts who can easily come up and say: Hi, my name is Vanya. And who are you ?, as a result of which they met and were already chasing each other around the site.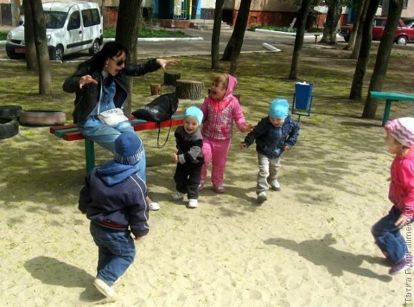 And the other one, an introvert, will just sit on the bench, will squeeze his toys and will be watching everyone. He likes to play more himself than to be in the company. So children need help, teach them to meet and make friends.
The ability to communicate still comes from parents. If mom and dad are more pleasant to watch TV, then the child will be in solidarity with them. And if he sees mother's girlfriends who come to chat or noisy forays into nature with games and contests, then he will strive to be like and make friends.
I have not in one topic said that the most important thing is the ability to talk with your child. Tell about your childhood friends, about your funny moments and conflict situations. Ask how he is doing in the garden, who was today and what he did. Remember the names of his friends, let him tell you about them. We have a very good help in this photo. He likes to watch albums and talk about his group in the kindergarten or about yard friends.
We also often, especially in winter, invite children from the playground. That is how friends appear who can then walk with you through life. If a child takes the initiative and asks to invite Masha or Katya, then encourage him. Offer him to bake cookies for the arrival of guests.
Also teach the child not to impose. There are moments when a child is visiting and, going to go home, begins to hysterics. Explain to him that everyone is tired, you need to go home, and then you will definitely call them to visit you.
It is very interesting for kids to be together with their peers. Do not deprive them of this, even if you do not like yard sandboxes or playgrounds. Learn to be friends. This can be done on the example of fairy tales, poems or story games with his favorite toys.