Granny likes to give us big and very beautiful books. Various encyclopedias, collections of poems, fairy tales and other publications.
Among all this magnificence, the daughter has one – the most favorite book – the Great Encyclopedia of the preschooler with glossy pages, lots of colorful drawings and useful information.
Usually, we put such books in the closet, but this one always lay in an accessible place and the daughter often read it herself. As a result, irreparable damage was inflicted on the Russian alphabet from Chapter 1 of the book, estimated at 9 letters, namely: all the letters before I were removed from it. And seized the most barbaric way.
And the worst thing that Grandma discovered. She, of course, was upset. We have had similar excesses with books before: small, unpretentious books were subjected to looting. Naturally, this behavior was not encouraged, I explained that it was impossible to do this, and my daughter, as usual, agreed.
The appearance of each new book in the house is now accompanied by a brief briefing on the fact that it is impossible to tear out pages and draw in it. The daughter usually agrees with these simple requirements, but systematically violates them.
After wandering through the parental forums, I found some tips on how to solve the problem of careless attitude to things. This is not about raising a cult of material values ​​in a child, but teaching him to take care of things that cost a certain amount of money and do not just go to adults.
So, what should our grandmother do when, having entered the room, she finds her granddaughter there, in a heap of pages torn out of a book?
Option 1. Educational work

It is easy and affordable to explain to a child that she has been working at work all day to earn money and buy a book for her beloved granddaughter. And he is terribly upset when he sees how a granddaughter treat grandma's gifts.
You can get the child to repair the book. We glue together everything that can be saved.
Option 2. Skip through

He reminds the child of the moment when he experienced physical pain (fell, hit, he was given an injection) and says that the book also hurt.
Options 1 and 2 usually work, but for a limited time. As a result, the book still gets it.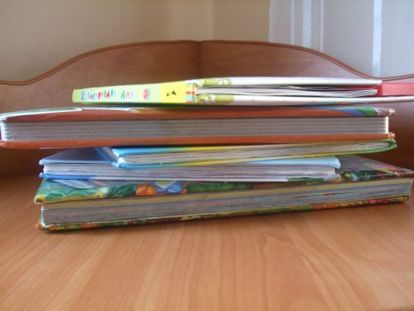 Option 3. Take or limit

Granny said that the book was offended and no longer wants to play with the baby. Removes it in an inaccessible place. As experience shows, the less things a child has, the more he treats them.
On many acts, but in our case the number failed. My daughter did not remember the books at all, devoting herself entirely to toys.
Option 4. By contradiction

Granny takes a book from her granddaughter and starts to hack her with enthusiasm, saying that she also likes this game. Dite in shock, he is sorry for the book. The remaining books are saved, albeit at a dear price. In the literal sense.
We have not yet reached this point.
Option 5. Aggressive

Granny stomps her foot to intimidate, turns into Baba Yaga, slaps a little tomboy on the pope and puts in a corner. On peas. All night long.
Our grandmother can hardly forgive herself for this, therefore – not an option.
Option 6. Passive

Wait for the baby to outgrow it. Or accept and buy only cheap disposable books for a child.
And how did you teach the child respect for things? Perhaps the fate of a single book depends on your advice.