This winter, my child mastered skates. Everyone says children learn is simple: put on the ice and the kid went. It turns out that this is not always the case, and I am not ready to teach a child with such methods. I bought my skates spontaneously, having learned that some friends of my son's peers already cut through the rink, but decided to learn to skate by the rules.
I will not tell you anything about the choice of skates, I, as you understood, did not bother with this. Just bought a sliding.
How to teach


I read in the internet, I chose an acceptable program for myself, which looked like this.
Training


1. Before you go on the ice, you should try the skates at home. It is good that in the hallway we still have linoleum. There the son practiced walking in a new shoe. He walked, posed (here it is important to not too tightly tighten the shaft of the skate so that the child could crouch at all).
2. When we went to the skating rink, at first we walked in skates just through the snow, then stepped onto the ice.
3. Naturally, at first we supported the child – even though it is believed that children fall gently, brain concussions in children – very often. When he got a little comfortable, they began to let go, offering him to just walk. By the way, in the sections on figure skating, for the first time children are brought to the ice on all fours. That is, on ice they first just crawl.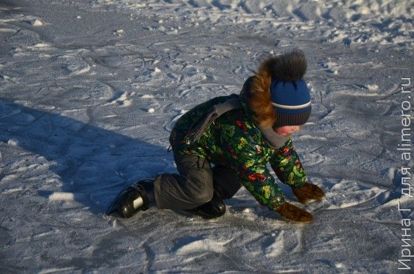 What to learn first


1. Fall! It is a pity that I did not know this when I learned to skate myself. And I must say, I learned only 6 years ago. I learned, but I do not feel too confident on the ice. I think, being able to fall correctly, I would be a little braver. We fall on a flank, sliding on the ice. For a child who still does not know how to ride, and this is entertainment.
2. Get up. This is more complicated. The son has not learned to fully stand up on his own feet yet, but what our years!
3. Walk on the ice. To learn to ride, the child must first learn to walk on slippery ice on slippery blades. So he begins to feel the skates and keep his balance.
4. Push off one foot or the other in turn. This is, in fact, the most important thing to learn in order to go.
So that was not boring


Learning is not as pleasant as riding well, so in order not to discourage the son from hunting, they rolled him, holding hands. True, there is no benefit from this in terms of training – the son immediately grabbed hold of our hands and completely ceased to keep his balance. But he was pleased and rested a little.
Also, holding the child by the arms, showed him a snake, a flashlight and a Christmas tree. Colds prevented us from doing more, but by the end of winter, the son somehow learned how to make a Christmas tree and went quietly. We will finish the next winter or on a covered rink, if possible.
Girls, and your children or yourself at what age did you learn to skate? Was it difficult or did it work out by itself?