How to teach a child to read? This question has become quite early when the baby was just born. It was then that I learned about the method of Glenn Doman and was so inspired by it that after waiting for my daughter to be 3 months old, I began to actively implement between feeding and sleeping.
It seemed to me that I was doing everything correctly, and my results would surely be crowned with success. I started with letters that were printed on a whole sheet, then I switched to words.
The principle was as follows: it was necessary to show the child the written word and next to it the designated object. The classes were quite active, but the connection was, of course, one-sided. We have not learned to read according to this method, but of course there was some contribution to development.
From this experience, I learned that the child does not need to be checked for the quantity and quality of knowledge, because everything is perfectly absorbed and remembered. And the results are more important for parents, and here, of course, he is better off tempering his passion.
The experience of Cecile Lupan
Then I learned about Cecil Lupan's early development system. She immediately liked me, and I began to use the ideas that I found in the book. First of all, she paid attention to the letters, they were drawn very funny, which improved their memorization.
Having printed them out and cut out, we began to study. It turned out very fun and affordable. The learning process was wonderful, my daughter constantly brought me pictures so that we could look at it together.
The next step is the letters on the magnets.
Then we bought letters on magnets and, sticking them on the fridge, began to learn to put syllables and interesting words: name, favorite food, mom, dad and other words important to the child. The classes were very successful and with great pleasure. And we always finished before the daughter managed to lose interest.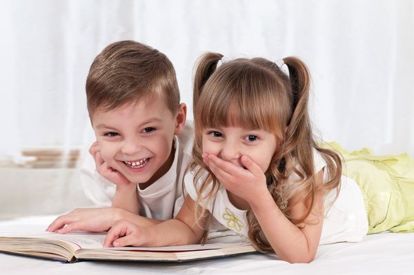 In all books on the early development of children, emphasis was placed on the fact that they should start as early as possible, because the material is absorbed very quickly, and so we did. Our games on the fridge, gave a remarkable result, my daughter started reading at four. Of course, it was slow, and the word was disassembled long enough, but the principle itself was already clear to her.
Negative experience with a letter
I was very happy about it. I decided to go ahead and bought her an ABC book for reading. And here we faced the first problem, the words there were divided into syllables, and the daughter learned to read, adding one letter each time, until the word was obtained.
Perhaps you will say that this is not correct, I do not know what to answer, for me it was mainly that she herself figured out what it was for, although in a rather strange way. So the primer is absolutely not suitable, the classical method just confuses her.
We go naturally
We had to postpone this idea. Yes, and classes, too. Left everything at this level as it is. After all, reading is, above all, a method of extracting information, and not a technical aspect. Age 4 years, this is not the time when the child will go for information in the books.
So we stopped at the fact that my daughter read the labels in the kitchen and signs on the street. At first I offered her, then she began herself.
Now we are 6 years old and in 2 months we go to school. Now for us the main thing is to develop a reading technique and here again we are faced with a problem. It takes a lot to read, but it's just impossible to find a good book.
The primary criterion is interest, and it is impossible to call it with the assortment that is on the shelves. Since the texts are focused either on the fact that parents will read, or on older children.
So I decided to try writing texts for reading by myself.
Today we had our first experiment, I composed a story, and my daughter read it. It turned out great!


Having gone such a long way, I realized one useful thing, to teach a child to read is not difficult. And any mom can handle this without problems. The main thing to set a goal, to do a little every day, to maintain the interest of the child and carefully monitor your student. And the results will not keep you waiting.