The topic that I want to devote to today's topic was very relevant for me two years ago, when my daughter was 6 years old. She went to the senior group of the kindergarten, and I was preparing her for school. I wanted my daughter to be ready for school even before the first school year began: she could read and write, knew her home address, knew how to count money and determine time.
I tried to teach her all this in the last year free from school. As it turned out in practice, it is easier to count money than to determine time. I admit that I was a bad teacher. It seemed to me that I was explaining to the child clearly and simply what the big arrow means, and what is small, and how to understand what time it is.
It turned out that my child's explanations are incomprehensible. Rather, what each arrow shows, the daughter understood quickly, but she could not tell what time it was. Then I turned in time for help to a former classmate, who now works as a teacher of elementary grades. From her, I received some very good tips that helped me teach my daughter to quickly determine the time.
I want to share these tips with you, dear readers.
one. Buy your child a watch. Own, wrist. As a rule, the appearance of such an adult thing in a child causes him to learn how to use this thing as quickly as possible. If, before buying a watch, my daughter didn't have much desire to learn how to determine time, then after we gave her a watch, she began to ask herself to teach her how to use the watch.
2 Make a clock out of cardboard. But not simple, but with a secret. Behind each digit on the dial should hide a window. Behind this window is the value of minutes. For example, the number 1 should hide the number 5, the number 2 – 10, 3 – 15, etc. With the help of such a watch, it is much easier for a child to learn time. Verified 🙂
3 Explain to your child that there are always 24 hours in a day, that is, the smallest hand should go around the dial 2 times a day.
four. When playing with a cardboard clock, move the big hand from 12 to 1. Explain that 5 minutes have passed, then from 1 to 2. Explain that another 5 minutes have passed and open the windows on the clock a little to make the child see this.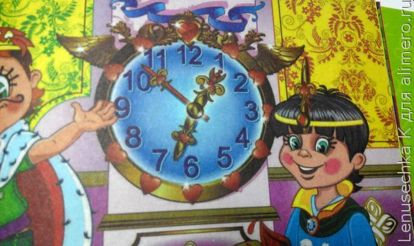 five. Teach your child to tell time using the game. First, you set the time on the clock, and the kid calls it, and then vice versa.
In such simple ways, with the help of the game, the child will quickly and easily learn how to determine time.
Dear readers, tell us, at what age did your children learn to tell time by the hour?