I think the most important thing that we should give to children is unlimited love. But besides this, it is worth bringing up the good qualities that every person should have. It is very important for me to teach a child to a healthy lifestyle. And I try to do it from a very early age.
Loving and caring parents in different ways pay attention to their children. Some of my acquaintances believe that the proper upbringing of their offspring is received in kindergarten, and being at home with them is a waste of time. Others believe that all developmental activities, sections and clubs are a waste of money.
And I have a rule that I adhere to. This is a healthy lifestyle. The child should do everything out of habit: brush your teeth twice a day, eat right and play sports. Such care for yourself and your health will save you from future problems.
What does this mean for a child? These are vegetables, fruits, berries, dairy products, fish, lean meat. Food should be fresh, high quality, tasty. A small family member should take an example from their parents. And accordingly, mom and dad should eat right.
Food should be varied. I cook every day and something different. If yesterday there was mashed potatoes with meatballs, then today there will be porridge or soup. We have abandoned harmful products for a long time. Therefore, carbonated water, chocolate bars and snacks at home you will not find. This is not an everyday meal, and we do not abuse it.
As a rule, young children still do not understand how much food they need. I try not to overfeed, not to load the stomach with excess food. It is much more reasonable to eat less, and then ask for supplements.
I always wanted our family to be athletic. We have a sports dad, he was engaged in tourism. And now we are planning to teach children and tourism. In the future, you can travel with your family, visit the most beautiful cities of our country.
I also plan to write the eldest daughter in gymnastics. I want her to be flexible and taut. In the future, I want to take my son to the pool and to football or basketball, my daughter to gymnastics and karate. In the meantime, we just ride a bike, a scooter, run, jump on a fitball and do morning exercises.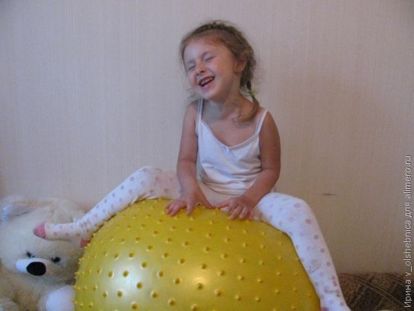 How can you be against them? The only thing is not to impose your opinion and force. You just need to lure and talk about the benefits of a sport. It is necessary to choose the option that will suit both the baby and parents.
Sport for crumbs should not be boring and dull. Turn it into a passion, an interesting game and always ask about the results and achievements. Even a small achievement is worth praising, because for a child it is very important. And just a little seems to him a success and a huge victory.
In all you need to be an example to follow. So, if you forbid the crumbs to sit at the TV or computer, you need to follow these rules yourself.
How do you teach your children to a healthy lifestyle?