While students are studying hard at school, children who are preparing to go to school next year, learn the basics of science with the help of parents or teachers of preschool education centers.
Often parents worry that a baby cannot remember letters for a long time, while a neighbor's child has been reading syllables for a long time. But children are different. If one grasps information on the fly, the other takes it far from the first time. But this does not mean that at school this child will learn poorly.
I started to teach my daughter letters not too early, but not too late. About 4 and a half years. Up to this point, I managed to hear plenty of reproaches from my parents, who every day kept saying that I started reading at the age of 3, saying, I don't study at all as a child.
I did not understand and still do not understand why it is so early to teach a child what he does not need at this stage. By the way, my daughter learned the letters very quickly, two weeks after the first lessons she already read syllables. I want to tell you, dear readers, how I managed to quickly teach a child letters.
At first I tried to teach my daughter letters by letter. Showed to her those letters that are easiest to pronounce (A, O, I, etc.). My daughter memorized individual letters and even began to show them to me on posters in the city, on announcements in a minibus, etc. She visually remembered, but she could not connect them into syllables. It seemed to me that there was little use in such a study, and I decided to use another method.
I drew cards with familiar letters to my daughter. Each card has a separate letter. We started to play the game: take turns pulling out two cards and reading out the syllables that we got. So my daughter read her first syllables. To play this game was fun, for each syllable correctly read, I gave my daughter a sticker.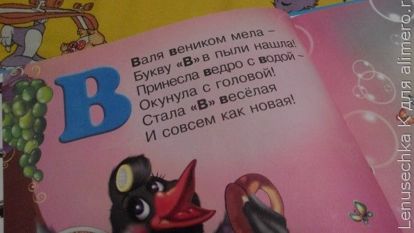 For the New Year, we presented our daughter with a developing musical poster with the alphabet. This poster has many features: different alphabet learning games. My daughter immediately liked this poster. She clicked on the letters, chose the right options, made up the words. For several weeks this poster was her only toy, because she didn't even fit the others. Thanks to this adaptation, the daughter until the end learned the alphabet without our help. It came as a surprise to me when she took the book and began to read it out loud.
Dear readers, tell us what methods and devices helped you teach kids letters?