Once my friend asked how I taught my daughter independence. We were visiting her, my 4-year-old daughter was surprised by the fact that she herself carried the plate after the meal in the sink, and then, taking a high chair, washed the cup behind her. But I saw the real surprise on the face of my acquaintance when my daughter put on her own shoes before leaving home, put on her hat and buttoned jacket and scarf.
Now my youngest daughter is 2 and a half years old, and recently I heard again the question of what I have been doing so that my daughter would be independent. It was in the garden. The mother of one boy was surprised that my daughter herself takes off her pants, in which she walks in a group, and puts on warm clothes to go home.
Honestly, I was confused by the question. I'm not doing anything special for that! On the way home I spent a long time pondering the issue of the child's independence. And I came to the conclusion that some of my actions helped my children to become independent. I hope that my experience will be useful for you, dear readers.
Yes, yes, I believe that it is not necessary to prevent the child from doing something on his own, though not always neatly and quickly. What kind of independence can a child be talking about if parents do not allow a 5-year-old child to wash a cup behind them, arguing that he will break it, or not allow him to button his jacket buttons, because he will do this for a long time?
I believe that there is no need to rush to help the child before it really is needed. You are in a hurry, and the baby wants to dress himself? Knowing that your baby is lonely for independence, start gathering 10 minutes earlier. In these 10 minutes, the child will either dress himself or he will get tired (but he will have good training, which is also very important), and you will be able to put it on quickly and as you need.
Still, I believe that in the upbringing of children, sometimes you just need not interfere. Let slowly, albeit uncertainly, but the child himself will figure out how to dress and how to put on shoes. Show, and do not interfere. Give your baby time.
The child must have responsibilities. The child must feel that something depends on him. That he is important, because he is responsible for something. Responsibilities may be different. First of all, they depend on the age of the child.
For example, my eldest daughter in the incomplete 8 years watering flowers, cleans in her room (except for wet cleaning) and feeds her pets, Akhatinsky snails. Increasingly, the daughter takes the initiative in other matters. For example, washing dishes or folding clothes in his chest.
The youngest daughter, who is 2 and a half years old, also has small duties. After the games she puts the toys in the basket. Also during the cleaning she wipes the dust! She really likes this case, and let me always have to redo her, but my daughter does the cleaning with great pleasure!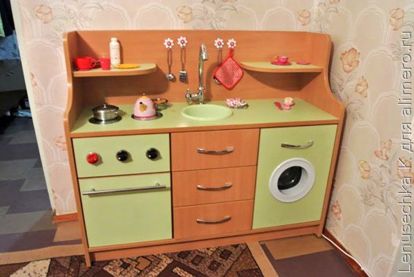 Also, the daughter has one very honorable duty. After I wash the cutlery, my daughter shifts them from the dryer to the drawer in the kitchen cabinet. This is perhaps the most favorite activity of the baby, which only she does.
Dear readers, tell me how you teach children of independence?