In the previous topic, I talked about how I wake a child and how sometimes it is difficult for me to do it. But today I want to talk about how we go to bed and about our actions at bedtime.
I think that not many children, especially at the age of 3-4 years, can fall asleep on their own. Most often, they are laid mothers, but not as fast as we would like. Therefore, parents have their own secrets, such small rituals that occur from the evening to the evening before going to bed.
With the advent of our son, our daily routine has changed dramatically. When he was just born, I had to turn on my efficiency and do everything as quickly as possible! After a while I already knew many of the wishes of the baby, and my actions were put together in a chain.
I performed the same actions every day. If you even take a diaper change, then at first it took 3-5 minutes, and then – a few seconds. Similarly with other actions, for example, associated with sleep. Equal day-to-day manipulations are a sign of consistency and reliability. Both mother and baby know for sure that tomorrow they will have to wait for what was yesterday, this is already a tradition.
Rules for parents
To make the preparation for sleep a good tradition, you must follow the rules:
1) Calm, only calm.
Quiet pastime at least an hour before bedtime. No need for noisy games, screams and running around.
2) All in order.
My son likes everything to be according to plan day by day. He comes from the street, eats, watches a cartoon, then we read and go to bed. I can rearrange the food and cartoon, then he begins to resent. Children have the confidence that they are planning (even unconsciously) their actions. They want to be like adults and make their plans.
3) Catch the moment.
Ritual before bedtime is not a way to quickly put your baby to sleep and go about their business, but a kind of emotional communication. I communicate with my son almost all the time, except for the garden.
But the husband works in shifts and there are days when they may not see each other before the garden. Therefore, in the evening of a fairy tale before bedtime, he is reading his dad. But parents, who both work, bedtime rituals, in my opinion, are even more necessary, because the child does not see them all day and is bored.
4) Follow the goal.
At the moment, your goal is to put the baby to bed at ease. What do you need to do this baby? Clean up the toys, prepare the bed, wash, brush your teeth, go to the toilet, change clothes, drink some water.
Here are the actions we have every day. The child fulfills them all, though sometimes you have to remind. When one does not want to do something, for example, to put on his pajamas himself, one has to invent speed games. We develop good habits from childhood.
When the son was still tiny, we had the following traditions:
1) Massage. I read a lot of manuals on massage, but still I'm not an expert, so I did the simplest, stroked my tummy, back, stretched my feet.
2) Bathing. While I was doing the massage, our dad was already taking some water in the bath. After bathing, our baby fell asleep very well. Especially when his son was worried about his tummy, some water helped him a lot.
3) Preparing the bed. Any child will sleep peacefully if nothing bothers him. Therefore, you need to see whether the bed sheet and pillow are lying flat, what kind of pajamas are needed, etc.
4) Feeding. A happy child is a well-fed child. In any case, this is how it was with us. If the son ate a good breast for the night, he slept for at least 3-4 hours.
Preparing for bed three years
Now my son is almost three years old and, of course, we go to bed, we are completely different, but still we have some rules and traditions before going to sleep.
1) Calm before bedtime.
We often visit guests or they come to us. But I know for sure that about 1-1.5 hours before the child's sleep, we should be alone. I have a good Roly common ground with children and adults, so time spends very emotional and active. Then he calms down for a long time. If he was put in immediately after the guests had left, then he would not sleep very well at night.
Now we still bathe every day before going to bed. I collect foam in the bath and take his favorite toys.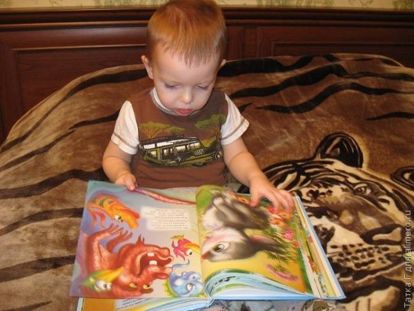 At bedtime, we read 1-2 tales every time, and I have to stroke his tummy or back.
4) Magic words
I constantly tell him many pleasant words. And do not demand anything in return. I never asked my son to say that he loves me. He began to say it himself and ask me. I am very pleased.
Some kids love bedtime lullabies. But I tried to sing something to my son when he was 1-1.5 years old, but he started crying. I guess I do not sing very well, so we confine ourselves to a fairy tale.
findings
It seems to me that bedtime traditions are very important for a child. After all, it is not only some hygienic procedures, but also the communication between mother and baby. When she is not busy with household chores, she gives herself entirely to the child.