Praise can also be offensive. Do not believe? And I was convinced of this on my own experience. It is not enough to say to the child. You are well done – these words are empty, without feelings and emotions. It is very important for the baby to know why he is praised and how he should act in the future to feel the approval of his parents again and again. It gives him confidence.
Just a word, two words …
Although, by and large, it is not so important to justify praise, how much it needs to be done, adjusted for the sex of the child. Yes, yes, these are not empty words. Praise for a girl should emphasize her importance as a person, not a successful achievement.
That is, it is necessary to praise not tasty cakes, but the hostess herself, who masterfully prepared them. Growing up, the girl should hear as often as possible that she is a clever, beautiful, needlewoman and just a fabulous fairy.
Then she will grow up confident that she does not need to know how to cook amazingly or to be an ideal hostess for recognition in society. She will know that initially worthy of love, without any exploits on her part. And the ability to cook, housekeeping, needlework or compose poetry will certainly appear to her. We women are initially talented. It is only necessary to enable these same talents to manifest.
As for the boys, here the rule works in exactly the opposite direction. A son will grow up a real man, and not a pampered mama's son, if instead of vanilla tenderness, to praise his every achievement. For example, your son built a sand castle, and in the language he spins: Well done! You know so much, honey. And you need to say otherwise.
It is this achievement that you need to praise: How wonderful you did it, such a big castle is so much like a real one. Better yet, praise the boy's success in front of outsiders, and proudly add: This is my son !. Each small victory, deserved the praise of adults, is a step towards the future achievements of a maturing boy.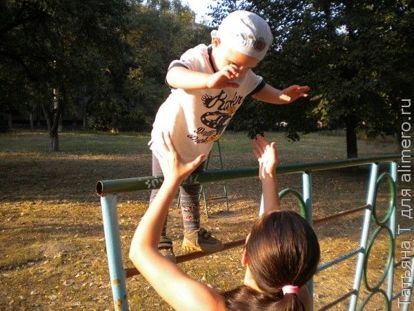 I was little too …
Do you remember how you yourself were praised as a child? My parents did it completely differently. Mom, very often hugging my sister and me, whispered how happy she was to have such daughters. She constantly told us that we were clever, beautiful and hostess.
So my father was rather stingy for praise, it was not so easy to win his approval. Our ability to cook, wash and maintain order in the house was taken for granted, and it never occurred to him to praise our daughters for such little things.
But the woodpile meticulously folded by me, a safely stowed stool, or a quickly dredged cesspool, deserved his low-profile praise. Carefully assessing the result of my work, he nodded approvingly: Good work, there will be people out of you.
How do you praise your kids?