On how to choose the right nebulizer (inhaler), I wrote in a previous article. Today I want to share with you the basic rules and nuances that should be taken into account during inhalation.
Approach to the child
In no case can not force the child to inhale, especially if it is a preschooler, with whom in most cases it is possible to agree. Moreover, procedures should not be punishable (for example, if you behave badly, you will be inhaled!).
Before buying an inhaler, I told my daughter that we would soon have a device in which we would pour some water and breathe it. She told that many of her friends have such devices, and the rest of the children have to go to the clinic to breathe steam, and how unbelievably lucky she is, because we don't have to go anywhere.
Fortunately, my experiences were in vain – the noise of the nebulizer was not so loud as to frighten and interfere with watching a favorite cartoon. Yes, and the duration of the procedure, on average, 5-7 minutes, during this time the child does not have time to get tired of sitting in one place.
The most affordable and common filler for a nebulizer is saline or mineral water (Borjomi, Essentuki). Such inhalations help moisturize the mucous membranes, have antiviral effects, contribute to a small dilution of sputum and removal of swelling.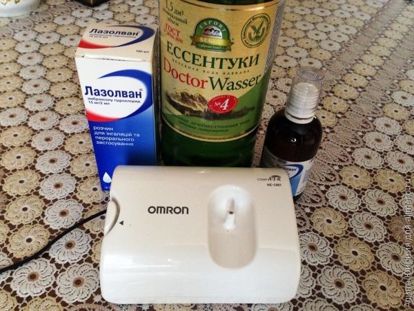 As prescribed by the doctor, you can use drugs that are intended for inhalation. The most common:


– expectorants (Lasolvan, Ambroxol, ACC)

– vasoconstrictor drugs (Naphthyzinum, Ksilometazolin)

– antibiotics (Isofra, Bioparox)

– hormonal drugs (Pulmicort, Hydrocortisone),

– antiseptics (Rotokan), etc.
The first use of the nebulizer
According to the instructions, before the first use or use after a long break should sanitize. I thoroughly washed the parts with water (except for the electronic device) and then rinsed with chlorhexidine solution. Alcohol is also allowed.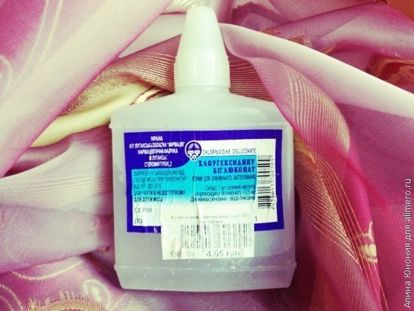 Pour the required amount of fluid into the tank, if using mineral water, it is important to release gas from it. Most drugs should be diluted in different proportions with saline, this item should be clarified with the doctor or found in the instructions for the drug.
Maximum procedure duration – no more than 7-10 minutes. For prophylactic purposes (inhalation with saline and water) 5-7 minutes is enough. Daughters were prescribed inhalations by Lasolvan, the duration of which is not more than 5 minutes.
Inhale the steam should be deep enough, it is better to do it slowly and rhythmically. Usually there is a mask, mouthpiece, and nosepiece. In our case, it was the nozzles that turned out to be more convenient, since, they provide a more local ingress of the drug into the body. I later read that this method is indeed more effective.
If you still prefer to use a mask, do not forget to carefully after inhalation wash my face, to wash off traces of the medicine from the skin.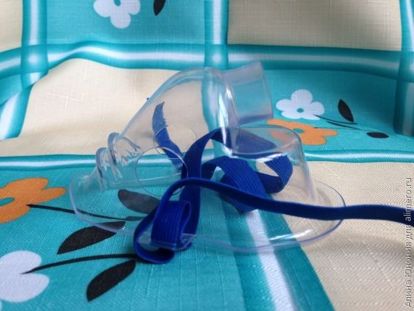 1. Be sure to pour out the liquid from the container after inhalation and rinse all parts under running water. Non-observance of this rule is fraught with the appearance of a raid on the vessel walls.
2. After use, it is important to thoroughly dry the washed parts (with a napkin or in the open air) to avoid the appearance of deposits and condensate.
3. Use for inhalation only those liquids that are intended for these procedures. You can not use essential oils, herbal infusions and other popular methods, unless otherwise indicated in the instructions.
4. Use medications only on prescription.
5. An open container with saline can be stored no more than a day. Therefore, it is more profitable to buy ampoules (2 or 5 ml), rather than large containers.
6. Do not leave the child alone with the inhaler, as with any other switched on electrical appliance.

Not recommended:


1. Make inhalations less than 1 hour before and 1 hour after meals.
2. To conduct inhalation at elevated body temperature.
3. Do inhalation immediately before going out in the cold season.
4. To do inhalation immediately before bedtime. After all, the procedure dilutes the sputum and contributes to its outflow, and in the supine position, it is almost impossible to cough.

It can not but rejoice that the presence of a nebulizer at home in our time has become a reality, because previously such inhalations could be done only in a hospital. And now inhalers are sold in pharmacies along with thermometers and tonometers.
There is nothing complicated in the procedure, I hope my article was useful for you. And if you have questions, I will be happy to answer them!