In all you need to look for the good side. So I decided when my youngest daughter got sick. First, she stayed in the kindergarten for 4 weeks (this is a record!). Secondly, apart from the temperature, nothing bothered her. And thirdly, we decided to spend a week in the hospital with benefits and do something interesting.
I have long wanted to organize sensory games for my daughter at home. There was even a thought to drag a bag of sand (I am not joking), but then I imagined how it would creak under my feet, and refused this idea. Instead, we decided to paint rolled oats in different colors. The process turned out to be fascinating for the child, and read below about what we needed the rainbow hercules for!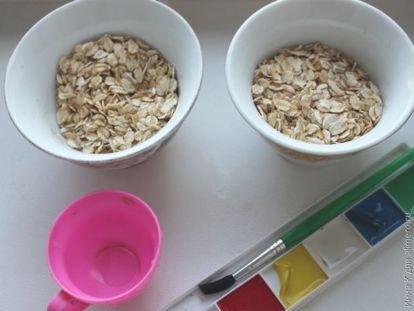 – ordinary hercules, you can the cheapest
– watercolor paints
– tassel
– capacity
– paper
In principle, you can take any cereal, for example, rice. But we didn't have it at hand, so we started by coloring other material.
Almost all the manipulations were carried out with Hercules, my daughter, and that's great. A child may be busy with colors and get dirty. My daughter really enjoyed this case.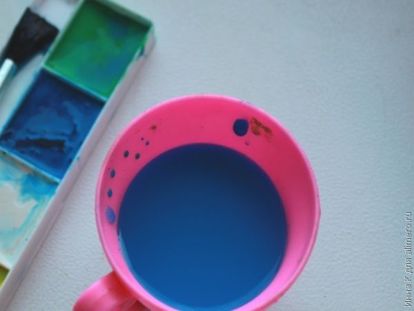 So, pour the oatmeal in the cup. Pour just a couple of spoons of water into a separate container. Now we give the child a brush in his hands, and let him plant them in water. Just make sure that the colors do not mix, children love to use all the colors at once.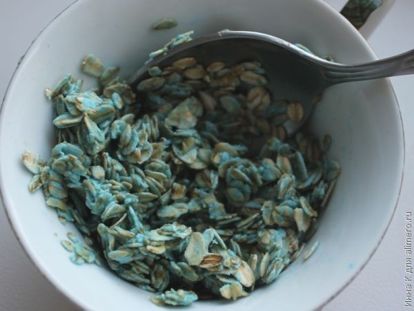 When the water becomes saturated color, for example, blue, we begin to pour it little by little into a cup with cereal. If there is too much water, the oat-flakes will begin to turn into porridge, and this is not necessary for us. Now mix the contents of the cup. Make sure that the paint is evenly distributed throughout the hercules.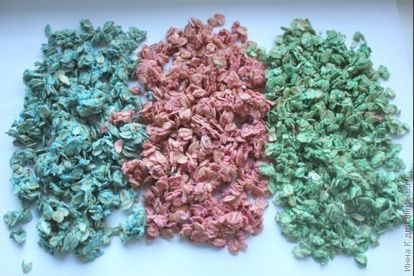 Similar actions are carried out in relation to other colors. We got three different shades – green, red and blue. Now gently pour the cereal onto the paper and put it on the windowsill in the sunny room. Leave to dry.
It took us 24 hours to dry. The daughter at that time was languishing with curiosity and all the time we went with her to the window sill and checked our rainbow oat-flakes.
And then, finally, it is dry and you can play with it.
How to use colored hercules: 5 ideas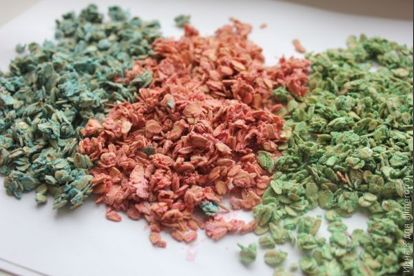 I didn't even expect that you can come up with so many games with colored cereals! Here are some options.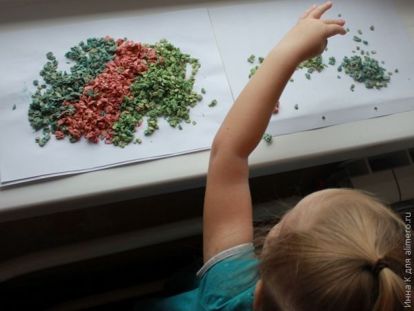 1. You can just sort it out. To the touch it is tough, this is an excellent training sensation for small fingers.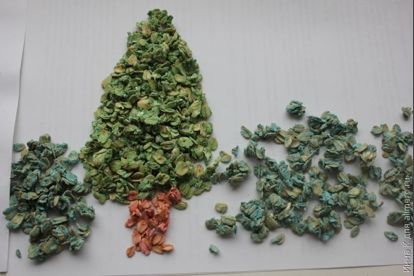 2. It can be used for applications.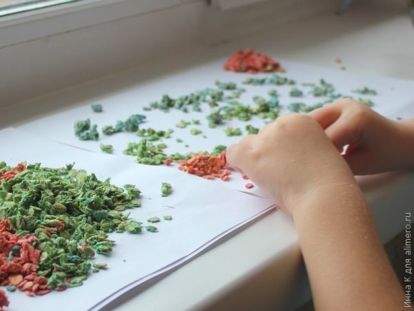 3. And you can just draw them. That daughter portrays something one she understands.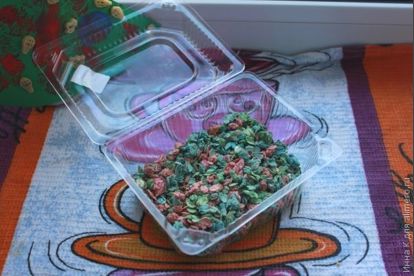 4. After the colors were mixed, I folded the whole oat-flakes into a container and called it a sensory box. And it turns out you can also play. For this come in handy toys from the kinder.


5. Or (oddly enough) money and garlic. Hmmm … Daughter arranged something like planting garlic and treasure hunt.
There are many games and they depend only on your fantasy with your child. Notice, I did not offer to put Hercules in color 🙂
A box with colored oatmeal was our favorites for several days. Even the eldest daughter took part in the game. And now it's time to invent something else. New ideas we will share with you!
Have you tried to paint the grits?