Often with the onset of autumn, a decrease in the amount of heat and sunshine, the mood in us and our children deteriorates. Honestly, I really do not like autumn and winter, and would like to fit into hibernation, like bears.
But, if we cannot change the situation, we should use what we have. Not always at our disposal are extensive material benefits that can be used to raise the mood of the child.
Discounted events
I constantly follow the discount programs of various children's events, we often go somewhere fun company with children. Often spend 400-800r. (100-200 UAH) for an entrance ticket for visiting the exhibition or presenting it is a pity to me, and not everyone has such an opportunity. But you can always find a way out – purchase a discount coupon (up to 80%) or having the appropriate booklet available (therefore it is better to read the handouts before throwing them out).
I also occasionally remind my friends about my child and the desire to go somewhere. Often in large companies distribute invitations to various events. My daughter's godmother works in a publishing house and gives us invitations to events that they advertised in their publications.
It would not be superfluous to learn about free entertainment for the child. For example, we have a puppet theater at many shopping centers on weekends, hand-made exhibitions with master classes and even a free game room!
Recently, we have visited quite a few public museums, the entrance to which costs many times less than the fee for visiting private exhibitions. Of course, such an institution does not have extensive advertising, but the one who searches will always find one. For example, the entrance to our Museum of Nature costs about 40 rub. (10 UAH) is a fee for visiting the exhibition of aquarium fish and seasonal indoor flower exhibitions.
Recently it turned out that my daughter is experiencing an indescribable delight in jewelry and outfits made by her own hands. The cost for this process is zero, we needed a bag of old serpentine, old magazines and glue.
Crafts can be made from anything – vermicelli, vegetables, matches, chestnuts, leaves, etc. The cost of materials is not at all important for the child, much more important is the attention and participation of the parents in the process.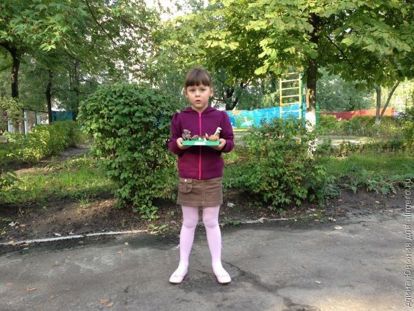 Yesterday we lifted up our spirits during a typical grocery hike. Taking this opportunity, they looked into the New Year supplies department and re-measured almost the entire range – absolutely free!
Not far from the house we have a large fish store, where we often visit to watch the fish in aquariums. When my daughter was about two years old, we visited this supermarket every day for several months!
Sometimes, as a walk, we take a tram (and this transport is very uplifting to the daughter's mood!) To the bird market – there you can wander for hours, looking at various animals. If you are too lazy to go, we go to a regular pet store, where you can also watch hamsters and parrots.
Do not justify the bad mood of the child and the constant presence of the house with limited means. It often happens that there is a lot of money, but there is no joint active and fun pastime.
I hope my ideas will help you think up an interesting leisure for a child without significant damage to the family budget!
I would be glad to read your recipes for inexpensive and interesting children's leisure!