Up to a certain age (in our case, somewhere up to one and a half years), friendship between babies is established or not established somehow automatically, on an intuitive level: I started rolling a typewriter, I liked it – we were friends, I didn't like it – we shouted.
And then maturing crumbs pay much more attention to relations with colleagues in the sandbox. Everyone already has a character and his own manner of behavior, his own tactics of games and peculiarities of interaction. Therefore, it seems to me, it is time for us, adults, to teach a child to contact in society.
My daughter is 2 years and 2 months old. Every day we walk in the company of kids, on the nose – going to kindergarten, staff, maintaining relationships … That is why I have been trying to pay attention to the education of social traits and skills in a little girl for a long time.
I will share my methods with you and listen with interest to your experience and opinion on this issue. All my actions conditionally divide into four subparagraphs:
1. Involvement of the child in the company.
Yes, there are nimble kids who are immediately joining any new company, but my Anyuta is not one of them. She needs to take a closer look, get used to it, and now she is also too shy.
However, all this happens faster if the mother herself begins to play with other children, seeks to rally the company by some kind of common occupation. It helps both with new children, and with friends.
It happens that the mood is spoiled by a fall, or someone has taken away a toy – the daughter falls out of the team. Then I ask her: And let's gather the kids in the dance? – and the crumb again in the center of events.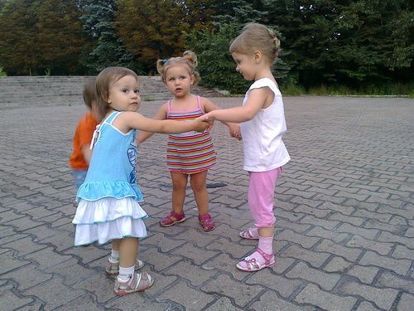 2. Absentee generalization with children.
Absentee generalization implies mentioning of our friends of the children when we are not near them: all the children together with Anyuta will now eat and pack bed / bathe / do exercises and so on – and list all the names.
This method is effective especially when there is a break in communication with children because of illness or departure. This stirs the daughter's desire to return to the company.
3. Explaining the behavior of other guys.
I noticed such a fact that it is worthwhile for me to calmly explain to the baby why someone acted exactly the way her attitude to what happened immediately changes. The effect is amazing!
A simple example: a friend runs up to Anyuta and tries to pull off the rezinochki from her tails (it was too beautiful!) – Anyuta is in a roar.
I explain that the girl did not want to hurt her or take rezinochki, but just wanted to see and touch, and if she does not like it, let them say do not touch me !. Works! Now in such cases, my daughter screams Do not touch! and the conflict is settled, not even having begun.


4. Playing possible situations.
The prospect of exploring a kindergarten prompted me to another unobtrusive learning – the game of communication. Most of all, Anya likes the game of acquaintance, when we learn from each role by role, how we call each other and offer friendship. Sometimes it involves dolls or little animals.
The main thing here, it seems to me, is to create a certain pattern of behavior for the crumbs. In the case of the same acquaintance, we always have the same words and the order of questions, only the answers change: – Hello, what is your name? – Answer – And you? – Answer – Let's be friends? – Come on!
Over time, Anuta began to get acquainted with the whole world: with an aunt from an advertisement on TV, with a plasticine hippopotamus and a dog for a walk. I really hope that at the right moment in the garden, for example, she will remember and apply this our game to a real acquaintance.