Children are sociable by nature. Even the most shy kids, if left alone, will find a common language. I was convinced of this, and more than once!
Another thing – if the child is less sociable than his peers. Individual approach is not enough in some kindergarten. And the child gradually begins to feel like the black sheep
What to do?


Of course, you need to help your child become more sociable. Uncommunicativeness comes from the fear of not liking, others seem to be a dangerous, alien person. This happens when a child has a negative experience in the past. For example, someone did not make contact, someone from peers offended, hit, etc.

In my experience, communicating with shy children, I became convinced that the negative experience should be blocked by the positive one. That is, to do everything so that communication does not associate in a child with stress. By the way, communication under compulsion only increases children's stress.
We need to invite children home, expand the circle of communication of the child. Moreover, it doesn't have to be a big company, in the big uncommunicative children it's uncomfortable, there is a danger of getting lost in the crowd.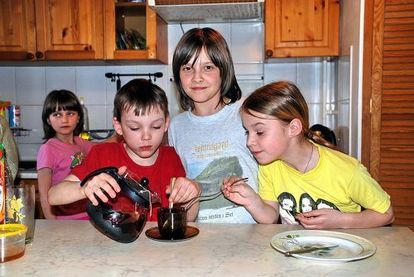 If the child has a boyfriend or girlfriend, you can not limit their communication. If not, try introducing a daughter or son with a neighbor child, children on the playground, with small distant relatives. To introduce is not to push and force to communicate. No, to acquaint means simply to make acquaintance possible.
Acquaintance or not – decide the child himself. But you will see that the acquaintance does not take long. Children are curious and inquisitive, the new person is of interest. And, if you do not put pressure on both children, they will get to know each other during the game.
Fear of collectives
It happens and this – the child communicates perfectly in small companies, but in kindergarten or at school is lost and forgets all his communication skills. Such a child is afraid of the crowd. Why?
This fear comes from infancy, from the age of 7 months. At this time, the child understands for the first time that he is not a part of his mother, but an individual person. And he begins to fear that his mother will leave. This is called the fear of separation.
In a large company, the child does not feel safe – there are many strangers around, they all do not correspond to his ideas about people, because he used to communicate with relatives and several children in the yard, and these children are not at all like them.
But even this fear passes, and pretty quickly. It is only necessary to help the child fill the memory with a positive communication experience. Show your child that people around are not dangerous, sit with him in a new society, hold him in your arms for a while. Soon he will start to look closely at the people around him.
Educators should be able to acquaint children with each other. During collective games, shy children understand that the crowd consists of individual non-dangerous people, and begin to trust them. Especially if they all play an exciting game together, or even just watch a cartoon.
The main principle of helping an uncommunicative child is the absence of pressure. Allow the child to develop individually, do not instill in him the conviction that he is uncommunicative, and he will naturally learn everything himself.
And it will be unclear who was previously called uncommunicative. Is this cute and open baby?