What do you think, at what age should children be taught to help with household chores? My opinion is that the time comes when two conditions are fulfilled: the child takes an interest in this and begins to walk on his own.
And this is not at all to shift part of the work onto the tiny hangers of the child. So I instill my daughter's love for helping other people.
Personal acquaintance with cleaning
It all started with us when the daughter just started to walk. I once again swept in the kitchen, and my daughter took a broom and a scoop from me. She just asked to get a big designer from the top shelf of the cabinet, and I honestly told her that I first need to sweep.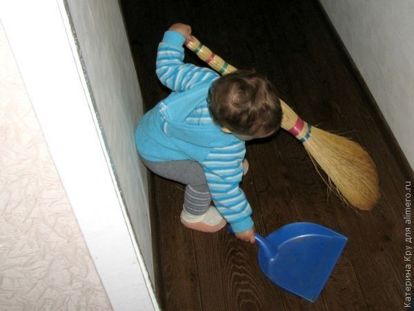 Apparently, to speed up the process, she took my inventory and began to sweep herself. Of course, for the first time she did not even manage to move one crumb to the scoop. But I thanked her anyway, and as quickly as possible I got the desired toy from the wardrobe.
The next time I helped her to do the necessary movements with her own hands so that the garbage would fall on the scoop. And although she didn't really succeed, I praised her and said that this was a different matter!
Help in the kitchen
Around the same time, the daughter began to show interest in cooking dinner. I could not entrust her with work connected with fire or a sharp knife. But still came up with an occupation with which she coped herself.
I offered my daughter to cut the champignons. Although she does not eat mushrooms, she loves to touch them, and now she chops them. At first she cut mushrooms with her toy knife. Over time, we switched to a knife from its set (with a rounded end and a safe blade).
Now, in four and a half years, I allow her to cut mushrooms, a loaf and tomatoes with a small ordinary (not very sharp) knife. I have it neat, so it does it confidently, but not in a hurry.
What I think
No need to stop the child. Of course, after she swept, I had to do it again. But if she would get an answer to the initiative, it would not work out for you anyway, I would save my time, but I would have lost the desire to help her for a long time.
In every way encourage the desire to help. Every time I thank my daughter for help. And I say that this time she did better than the last (if this is true), and that without her help I would not have had time.
Today, her daughter is sweeping, dusting shelves, doors and the walls of her bed, covering her, helping me in the kitchen, watering flowers and helping them to be transplanted into new pots. Of course, she does not do it three times a day (this is a child), but when I ask her to help, she never refuses!
And it's nice to take her out of kindergarten in the evening to hear how clever and helpful she is! She herself calls herself a hostess, and who can argue?