Proper nutrition – almost one of the most important issues today. After all, what we eat, depends on 90% of our state of health. What products a person consumes, what kind of water he drinks, what kind of air he breathes – all this is a component of our health. And when it comes to children, of course, I want to give the best of everything, to buy the freshest products and, of course, useful ones.
Iron is a vital component
Today I would like to tell you about a very important element, which is so necessary for normal life and children's and adult organism –iron. Without its sufficient amount in the body, hemoglobin formation is impossible. In addition, iron is involved in the formation of immunity.
So how much do children need to consume iron a day?
1. From year to 10 years – 10 mg
2. Teenage boys – 12 mg
3. Teen girls – 18 mg
The main reason for the lack of iron in children is, of course, malnutrition. Many children now mostly eat flour products and dairy products, in which iron is very small. And in order for a child's nutrition to be complete, it must include, in addition to dairy products, meat, beans and whole-grain products.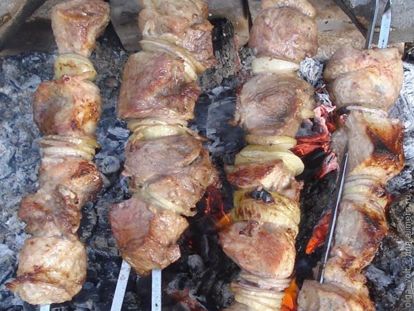 In order for a child to receive a daily intake of iron, he needs to include in the diet at least one of these foods daily:
1. liver, it is recommended to use only once a week because of the high content of vitamin A in it
2. pork, beef, poultry
3. beef tongue
4. rabbit meat
5. fatty fish
6. sea kale
7. buckwheat, rolled oats
8. Greens: parsley, dill
9. dogrose
10. green leafy vegetables such as broccoli, spinach
11. eggs
12. bean
13. different dried fruits
14. Whole Grain Bread
15. nuts

The berries also contain a lot of iron, most of all in raspberries.
And vitamin C promotes good absorption of this element, so it must be given to the child every day in the form of fruits, vegetables and juices.
It is also important to know that foods rich in iron should not be taken with milk, tea or coffee, they are not compatible with this trace element. So, buckwheat porridge with milk is canceled!
Three delicious and healthy dishes
Knowing which foods contain the most iron, I would like to share with you ways on how to properly and deliciously prepare a baby dish rich in iron.
1) Beef tongue with cream sauce
My baby loves beef tongue. It is very simple to cook it, first boil it lightly, and then you can fry in a skillet with onions in sour cream, it turns out incredible. For such a dish, you can serve a salad with fresh vegetables by adding there parsley or dill (vitamin C for better absorption), or some kind of side dish.
2) Buckwheat with rabbit
Cooking this dish is also not difficult. Rabbit pre-fry, onions and carrots just fry. All fill with water and let stew until the rabbit is ready. Ready gravy pour buckwheat and give your baby a tasting.
3) Fish stew
And another option is fish. As a rule, for a child I carcass her with vegetables, served with various cereals or pasta.
Knowing all the subtleties of proper nutrition, you can ensure the health of yourself and your family for many years.
Eat tasty and healthy with pleasure!