Recently, listening to regular seminars, webinars, I caught an interesting idea for myself, which made me take a different look at raising my daughter. She must grow into a woman. But do I understand myself who is such a Woman and what moves her?
the main idea
The main message that I received the other day is that the boy should be taught to make decisions, and the girl should enjoy life and herself. Everyone knows, happy mom – happy dad, children and family in general. And when is a woman really happy? When she feels sincere joy from everything that surrounds her. First of all, from myself.
The theory is clear, but in practice can every woman confidently say that she is satisfied with herself and the world around her? And why? Maybe we were not taught this, but on the contrary, we were persistently forced into the framework of comfortable and familiar stereotypes? And what should I do as my mother's daughter?
First, stop raising her like a boy. I just constantly made sure that in any situation my daughter learned to make a reasonable decision on her own. But I myself often make decisions, guided not so much by logic as by intuition. Why, then, teach your daughter false stereotypes?
Secondly, to give her a maximum of positive emotions. A woman is an emotional creature. Exciting experiences are important to us no less than chocolates and flowers.
Third, give her gifts, even the most insignificant. A real woman should be able to take them. She must understand that she deserves it and demand them from her man. Not deliberately, banging his fist on the table. And by its unconscious behavior it is natural to let know that it is worthy of worship.
Fourth, teach her to admire herself. First of all, its appearance. To do this, in the near future I will reconsider her unisex wardrobe and fill it with skirts and dresses.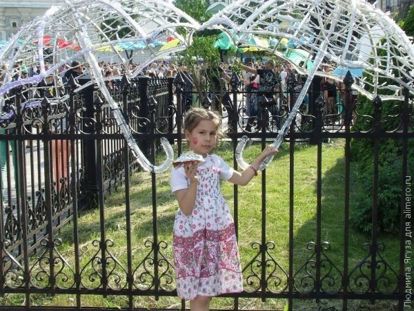 Remembering the past
The latter seems to me especially important. I still remember how my mother and I bought me a prom dress. At the market near the house I found the dress of my dreams. Black, form-fitting knee-length. The top is made in the form of a bow, covering the shoulders, from some greenish-chameleon fabric.
Sat on me perfectly. But it cost 120 rubles, and for my mother the ceiling was 100, because shoes were still needed. From frustration, I agreed to buy some kind of ordinary white attire, although I promised to wear a white dress to prom. But this black and green is still trying on in my mind and go to theaters and restaurants.
And just the other day, my daughter and I got into a similar situation. I decided to buy her a sundress for the summer, because in the wardrobe there are only shorts and T-shirts that were given to us from a boy friend. Saving my father's money, I chose a sundress cheaper, and the child grabbed an amazing pink dress with a rosette, which cost almost twice as much.
All persuasions to choose a sundress broke about tears and crying. Strong decision, we still bought it. True, the houses discovered that there was a mistake on the price tag – it cost as much as a dress with a rose. Moreover, my father did not have enough money for our trip to the store, and I reported my own.
In the evening, memories of a prom dress washed over me. It was here that I fully understood the experiences of the child and the karmic situation with the reporting of their funds. In the end, there is no money – these are my attitudes and illusions. I'd rather save on some other insignificant spending, but let my daughter feel like a Girl.
What are your priorities in raising children?