You know, I was convinced that creativity is one of the most important qualities of a person. Why, you ask? Because it is one of the most popular requirements for professionals in all areas.
This applies not only to such creative people as artists, writers, designers. These requirements are welcomed in other professions: teacher, engineer, leader. I, like many young moms, are worried about the question: how to develop the ability to think creatively in the crumbs? And in what, in fact, should this very creativity be expressed?
The first years of life for a child are important and valuable for his future destiny. The skills and knowledge acquired in childhood serve as the basis for his success and academic performance. Therefore, many modern parents tend to use the full capabilities of this period. And so they are increasingly trying to pay attention to the early development of children.
Children's Centers for the Development of Early Creativity
Hence – visits to children's centers and clubs, various classes at home. I decided to keep up with the modern world. Although we do not live in the megalopolis, we also have development centers. But how well do they affect the baby? We decided to go to class when our daughter was only 3 years old.
I did not see anything interesting. And the cost of doing something offended me a little. Of course, I understand that a child psychologist is trying to make some money. But this is not his profile. And the classes were quite simple, light: playing with clay, showing where the animal is and where it lives.
In the network now you can find a lot of educational materials for playing with children. Everything in an accessible form: printed out on a printer, cut out and play. Why pay someone money in the center if you can pay attention to your child yourself?
I do not argue, developmental centers are different. But our Ladushki are far from professionals. The clever specialist did not know about any methods of early development and its principles. From the side it seemed to me that a person simply saw in this a certain business, the possibility of making money.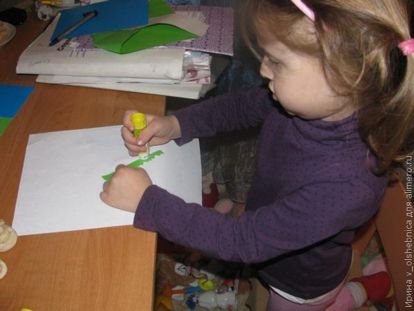 How to develop creativity?
As for me, creativity includes many more qualities. This originality, and abstract, and fluency, and development. How to teach this baby? Active games, educational activities are bearing fruit. I noticed that my own creativity is going in a new way.
For example, I wanted to play with clothespins with my daughter. To do this, we took interesting pictures from the Internet. And they were useful to us for the puppet theater. The idea was a daughter, I liked it, and I supported her in this. You know, sometimes it is very important not to stop the child from thinking. I now understood that children should remain open to newness and diversity of ideas.
It is important to move from one aspect to another. We listen to a song about a bunny, sing along. Then I suggest my daughter draw a clearing for the bunny and his family, where food is growing for him. What does this animal eat? True, cabbage, carrots, weed. Then we draw the bunny itself, his mom, dad, brothers, sisters, and the bunny has a big family. Moreover, this game for both of us is spontaneous, invented in a couple of minutes.
Do you think it is important to develop such a quality in children as creativity? And how should it be developed, in your opinion?