It's spring on the street, and I want to share with you my experience in choosing a jumpsuit. After all, when you buy winter things in spring or summer, you can get great discounts on various products. I most often do this, order online, or buy in company stores during the sales season.
It was probably easier for our mothers to choose winter clothes than for us. After all, they knew exactly what the child would wear. This is a fur coat made of faux fur and boots, and even boots. I now remember how my mother, putting me in the garden, dressed me in such a way, and also put a belt with a big buckle on a fur coat. And I went to kindergarten, barely moving my legs, because things were pretty heavy and voluminous.
And now my baby was born. I decided that his winter clothes would be light and he could move around without any problems. Price interested me in this matter, but comfort was paramount.
The choice of overalls is huge, going into the store, eyes just run up. Here we must act, based on your capabilities and requirements for overalls.
Overalls from 0-1 years
Our first overalls fell on the period when the baby was 6-8 months. He did not go yet and we chose him with the only requirement – that he was warm. We took a very inexpensive piece-work overalls on sheepskin. The son was lying in a stroller, was covered with a blanket, he was warm, and this was the main thing at that time. Some mothers in the period when the baby is 3-6 months, just wrapped in a blanket and that's it. We never swaddled our son, so he was categorically against any wrappings.
Overalls baby from year
Our second winter came in the period when the baby was one and a half years old. As I wrote earlier, the son was against the stroller, and he wanted to go everywhere himself. Therefore, we chose such clothes in which he would move freely.
There are coveralls with different fillers. Volume of this product depends on it.
1. Sintepon


Things with such a filler are the most voluminous and uncomfortable. A synthetic winterizer is recommended for a maximum temperature of -10ºС, so it is not suitable for cold winters. After washing things with such a filler are reduced in volume by about two times. The only advantage of this suit is a low price.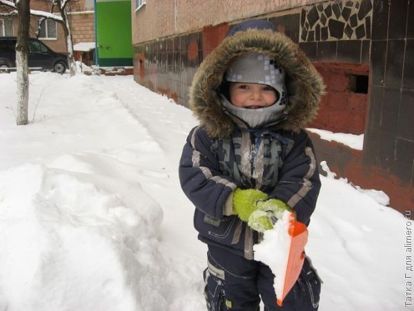 It is on this insulation we buy overalls for the second year in a row. We buy the same firm Wojcik. But I know that a good and firm Lenne. I can say only positive reviews about this jumpsuit.
1) Very light and warm. We walked in it with frost at -20 degrees, and under it we put on tights and one sweater.
2) The filler is a synthetic material in which dust does not collect, and various microorganisms cannot start.
3) Erasable very easily. My son from the garden comes sometimes very dirty. I wash the overalls in a machine at a temperature of 40 degrees and with an ordinary spin, in the morning it is already dry.
4) Excellent breathability, the child does not sweat in it. Can be worn at a temperature of -20 to 5 degrees.
5) Water resistant. If we roll in the snow or feed in a puddle, then it does not let the water through.
6) The price of this suit is relatively inexpensive. First we bought for 5000 rubles. And we bought the second jumpsuit during the discount period, so it cost us 2500 rubles.
This is a thin film that is glued to the upper fabric using special technologies. It is warm, light and thin. But there are some cons.
1) You can not fall in it under heavy rain or heavy snow, because he will get wet.
2) You can not walk at a temperature higher than -15 degrees.
3) You can not wash in the machine using spin.
4) You need to buy special powders.
5) You can not iron.
6) High price.
7) You need to buy thermal underwear to wear under such overalls.
4. Natural insulation



There are coveralls with natural insulation, such as goose or duck down. But the children may have allergic reactions, in addition, such things with such a filler will dry for a long time, dust will collect in them, and microorganisms will start and they will feel hot in a child at zero temperature or a slight frost.
That's basically all modern insulation, which is now used. Only you can choose the best jumpsuit, since you know how mobile the child is, how much you are on the street and what material wealth you have. I hope that my advice will help you.