The holiday season is not far off, and what kind of sea without a swimsuit? For my daughter, this summer holiday outside the city will be the fourth, and all previous trips could not have done without buying this important piece of clothing for a little fashionista.
Buying a swimsuit for growth does not make sense. First, it should sit perfectly, otherwise the probability of nosing and discomfort is high. Secondly, if you go to sea once a year, then it is likely to fly with the size until the next season.
However, if sea travel occurs more often, then a large swimming suit can be postponed until the next trip.
In spite of the fact that I buy all my things for a size, or even a few, more (for example, in her 5 years she now wears trousers of size 6-7), this doesn't concern a swimsuit. For example, last summer she turned 4 in May, and the size of 4T sat on her perfectly.
Baby models are rarely fitted with strapless regulators. Probably to avoid unnecessary irritation on the skin. Therefore, it is often not possible to adjust the size with their help.
Here the range is not inferior to adults! From the usual fused to a variety of separate options – with skirts, ruffles, and even figured cutouts.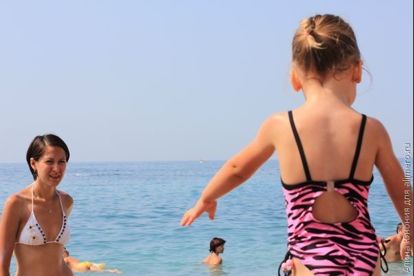 We had both options (merged and separate), I did not notice much difference between them. Is that, smooth closes most of the skin from harmful UV radiation. But we always use protective creams, so this factor is not critical. And for those who are very afraid of this radiation, there are closed models in the idea of ​​a T-shirt with shorts or even a hike for divers.
Of course, you can restrict yourself to buying only swimming trunks, but here I have a personal fad about girls. I prefer the upper body to be covered too.
The choice of colors is also considerable – favorite characters, flowers, peas, strip, etc. Here I am leaning towards something bright so that the child can be easily kept in sight among the many people on the beach.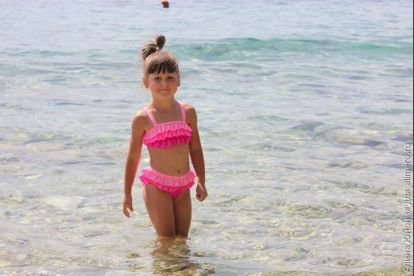 You can often find models with metal rings, beads and other decor. Here I judge by myself. Somehow I had a swimsuit with a ring between cups, so in this place I had a terrible irritation after swimming. After that, I try to avoid all sorts of jewelry on bathing suits.
By the way, on one of the swimsuits her daughter had a plastic clasp, so at first she was very unusual with her, even rubbed a little.
Swimsuits are often offered to buy related things – a terry poncho with a hood, in which you can immediately wrap the child after coming out of the water; rubber shoes for the beach, a towel, a hat and even glasses.
It all depends on your budget. So, this year we are waiting for a birthday present in the form of a set of a bathing suit and glasses, we already have the rest.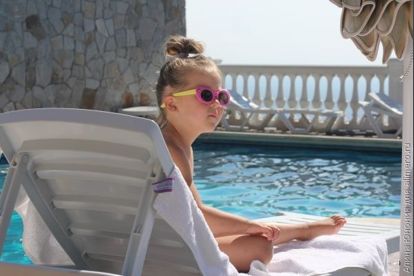 Let the coming summer still have to wait, but I really want my topic to remind you of this beautiful time of year! And pleasant efforts at the choice of summer clothes will certainly cheer you up!
What kind of swimwear do your girls have?