Last year, her daughter began to ask her to buy a bicycle. But if we got off with a scooter for three years, then there was nowhere to go for four years.
Since this is the first bike, we decided to stop the choice on models with R16 with additional removable wheels. All children of our company (3-4 years) models with exactly this wheel size.
However, the daughter is the highest in the company of peers and it turned out that our hope of acquiring a bicycle for at least 2 years failed. In order to make it comfortable to ride, I had to raise the seat to the maximum height. Obviously, next year the bike will be small to her.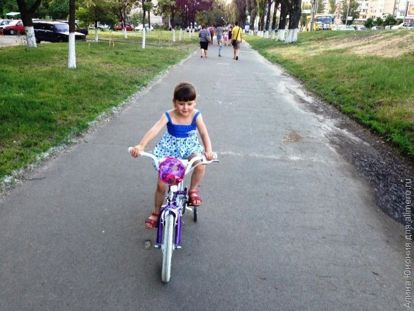 Theoretically, it would be possible to buy R18, but, firstly, usually such models are not equipped with removable wheels, which complicates the ride and is more suitable for those who are already quite confident driving. Secondly, such bicycles are mostly equipped with a gearshift, faster and more maneuverable, which a four-year-old child does not need at all.
In principle, the daughter sits on the R18 and gets to the pedals, but the consultant advised to improve the skills on the R16, and to get another one next year. By the way, her friend (4.5 years) parents bought R18, but after several walks the boy said that it was hard for him and he did not want to ride anymore.
Selection criteria for parents and children are different. For a daughter, such factors as coloring, the presence of a handbag or basket had a greater significance. I was interested in the weight of the product, and my husband studied the specifications.
Initially, we planned to purchase Cube (1000r.) Or Scott (12000r.). Then the daughter asked Giant (8000r.), Because such a girlfriend bought it, and, among other things, it is equipped with a basket (see photo).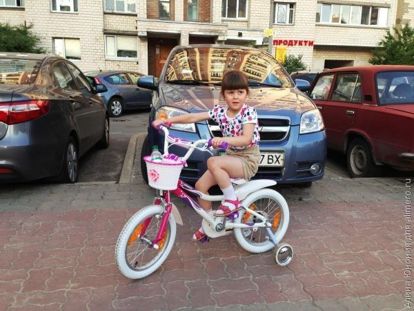 However, after finding out that our daughter will only use our purchase for one summer, we decided that the above models are expensive for one season, so we turned our attention to Schwinn, the Star Dust model (6000r.).
The girl from our company has the Lil Star Dust model (pictured below), they differ only in colors and the presence of a handbag on the steering wheel. The warranty on the product is 1 year, which does not apply to tires (i.e., if you pierce the wheel, you will have to glue it for your money).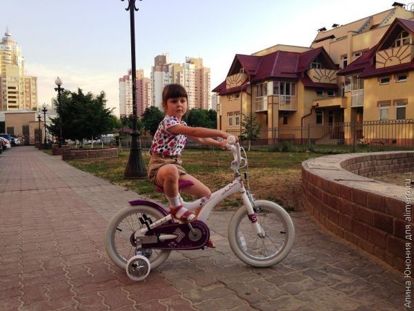 The bike is equipped with two brakes – manual and foot, its weight is 12kg (perhaps its only minus), the seat height is adjustable, the bag is included in the kit, the frame color is lilac-white with fish and flowers, small wheels are removable.
The daughter immediately went without any problems, there were falls, but mostly on the turns, we managed to avoid special injuries. I am glad that there are quite a few curbs on our way, there are ramps almost everywhere, which makes life much easier for me.
Honestly, I don't really like a bicycle. I can, in principle, ride myself, but I don't feel much excitement about the ride process. I especially do not like the fact that the bike is for me, and I have to lift it in the front door when crossing the road, which is especially inconvenient if the hands are filled with shopping bags.
Therefore, my choice is scooter;) I already wrote about ours, its 2.5 kg is just a feather compared to a heavy and bulky bicycle. Now the daughter herself chooses what she should ride. It usually turns out that the day we are on a scooter, a day on a bike.
Of course, this is a useful acquisition, because cycling provides good physical development. I like to watch the whole family participate in cycling, but I am far from sport, so for now the only cyclist in our family is a daughter.
Do your kids love the bike?