When we first went to the sea with a small child, I was very worried about swimming. Daughters then were 7 months old and many generally advised not to experiment and not to let her in to the water. But I was sorry to visit the sea and not to take such a good opportunity to improve the baby. In general, I sat down at the computer and began to get acquainted with this topic.


Temperature


First of all, I drew attention to the temperature of the water, suitable for swimming. It is believed that you should not let a child in the water if it is below 22 degrees. True, it seems to me, there is no need to choose here, because the sea is not a bath and a pool, which it will be, and you will have to climb into it.
The duration of the first bathing for a baby should be no more than 3 minutes. And in the future it can be gradually increased: for children 2-5 years – up to 5 minutes, 6-7 years – up to 8-10 minutes. True, children as young as 4-5 years old spend most of their time on the beach in the water, but, nevertheless, I have found such standards.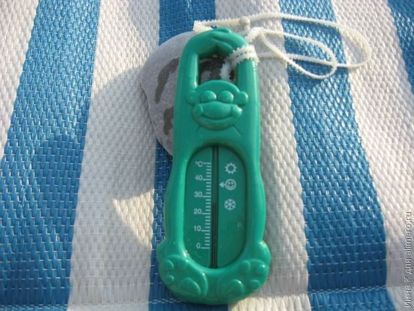 It is necessary to bathe a warm, but not heated child in the sun. Better if there is no breeze on the coast. After bathing, rub the baby with a towel. In the water, stimulate the child to move. At the first sign that the baby was cold, and even more so if he was trembling, his lips turned blue – immediately get warm to the shore!
Security measures


Security measures can be expressed in a few words: do not leave a child unattended in and near water. The recommendations are simple, but unfortunately not everyone follows them.
Positive emotions


It is extremely important that bathing caused only pleasant impressions in the crumbs. You can often see such a picture: a child rests, even cries, and he is dragged into the water. Somewhere I can even understand such parents. They worked for a whole year to go on vacation for two weeks, and the child does not want to go to sea!
But still think about what you are laying in the child attitude to water procedures, which he will carry through life. Therefore, do not cause him aversion to water.
Our experience



We did not immediately climb into the water, but got used to it gradually. At first I was wetting my baby legs. At the same time, at first we just poured it from a bucket that had previously been heated in the sun. I followed the temperature of the water and gradually brought it to the temperature of the sea.
Then I began to slowly shower my daughter. Such a douche lasted a moment, and then we immediately climbed under the towel. Some time later, I began to dip my daughter in the sea, while moving her legs and arms. Some babies squeal with delight, and mine just hung on my hand, but I didn't cry either, which seems to me important.
When the next year we came to rest to the south, our daughter was already a year and a half, and she herself was climbing into the water, running over pebbles and swimming in armbands. Well, this year, I think that everything will be even more fun 🙂
How did you bathe your baby in the sea?