My son has been going to kindergarten for more than half a year. During this time, we quite often suffered from colds, although they say that this is normal during the adaptation period. Today I want to talk about the basic mistakes of parents who treat their children on their own.
Treatment according to the advice
I recently witnessed such a conversation. I stand in line at the pharmacy and hear the young father talking to the pharmacist. He asks for a medicine to help his three-year-old child with cough, choose to your taste. I can not understand how such disorder. How can a pharmacist, even if he is the most qualified specialist, prescribe medicine to a small child without even seeing it.
I think that you should never use drugs on someone else's advice. Sitting in the sandbox and discussing the topic of colds with other mothers, you do not need to run to the pharmacy and buy medicine that helped someone else. Not the fact that it will suit you and will not cause any side effects.
I have one friend whose baby goes with my son to kindergarten. So, it is worth her baby to sneeze at least once, she begins to stuff it all in a row. To my question, for what it does, she answers, so as not to get sick. Tell me, what will be the health, and most importantly the immunity of the child, in 5-10 years? I think that the baby simply will not be able to fight viruses without the help of drugs.
Attempt to bring down the temperature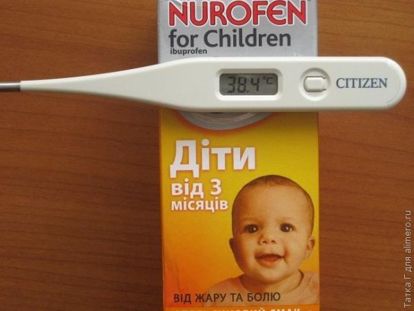 As for the very period of the disease, it is not necessary to try to bring down the temperature, but rather, first of all, call the doctor and establish the cause of its occurrence. I give antipyretics when the temperature is above 38.5 degrees. And when above 38, I wipe my son with room water, undress to the maximum, and also put a wet towel on his forehead.
Also, do not use antipyretic drugs for more than 3 days, because By this we visually improve the picture, but do not fight the disease itself.
Dress warmer
Many mothers try to wrap the child up or put it on warm so that the child can sweat. But it's not right. This can lead to overheating of the baby and the deterioration of his condition. The child, on the contrary, needs to be stripped as much as possible so that the heat transfer process is not disturbed. And clothes should be light, natural and free.
It is also necessary that the room was cool. Be sure to ventilate the room and carry out wet cleaning.
Since the birth of our son, we go to a private doctor, and I am extremely happy about this. A year ago, I changed the doctor and chose a specialist who corresponded to my views on medicine. She is never reinsured and does not appoint anything extra. If she prescribes antibiotics, then there are good reasons for this.
And in our children's clinic, antibiotics are prescribed very often. With any acute respiratory infections with a high temperature, many pediatricians prescribe them. Although many viruses are treated simply with antiviral drugs.
Cold and cough preparations
Many mothers treat children's runny nose with vasoconstrictor drops, but this is not always appropriate. These drops do not cure, but only improve nasal breathing, they can not be used for more than three days, because they are absorbed into the blood and lead to a violation of heart contractions and increased pressure.
And recently, our local otolaryngologists began to prescribe complex drops. If anyone knows, I will explain. This is the drug you need to do yourself. The composition includes an antibiotic, hormones (adrenaline, dexamethasone) and saline. So they treat any cold. And this drug is addictive and over time, the child does not help anything other than such drops.
A year ago, I also treated any cough. And then our doctor explained to me that only certain types of cough should be treated. We often have a cough from snot, i.e. when mucus flows down the back wall and cough reflexes are triggered. So it is not necessary to treat it with expectorant or antitussive drugs. It is necessary to treat a runny nose, and drink alkaline drink against coughing (it may be lime or chamomile with borjomi) and that's all.
Mode and nutrition of the child
It is not necessary to feed the child if he does not want to eat. With colds, appetite decreases, and all forces are directed to fight the disease, so do not overload the already weakened body. The same doctor told me that you cannot feed a child at a temperature above 38 degrees, even if he wants to eat.
You need to feed products that are easily digested. This is chicken broth, yogurt, scrambled eggs, baked fruit.
A baby with a high fever should have bed rest. And if he feels better, then you can do quiet games. Draw, read a book or lay down a picture.
No need to self-medicate. I think you need to go to the doctor, but it must be a specialist you trust. I go to the reception even when I see only the first signs of the disease. It is better to be safe and give the doctor to listen to the child, than to treat with serious medicines later.