Every mom has an answer to this question. However, it is worth remembering that what matters is not the quantity, but the quality of the time spent together. However, as in any business, it is important not to overdo it, I think.
Many of my friends, who gave the child their whole selves, at about the age of 6 were not only left at the broken trough, but in every way suffered from the fact that their blood was not so dependent on their mother, more and more time was spent on friends and school. . And the mother, who has not paid attention to herself and her development all this time, suddenly realizes that she is not a stranger at this celebration of life, but something that is not realized in her career, personal development, etc.
Try to spend time with your child as efficiently as possible. If you pick up a child from kindergarten or lead him to classes, do not do it in silence – use the time for communication. Let it be questions about what was for lunch in the garden or what exercises were performed on physical education, but the child will be sure that they are interested in his life, they worry about him and think about him.
If you reproach yourself for spending the evening at the stove, and not with the child, try to organize your life in a different way. I do not argue, most husbands love freshly prepared and homemade, and not the preheated the day before yesterday's soup and ready-to-cook foods.
As an option, cook the food yourself – take a couple of days, during which you will make blanks for the freezer – dumplings, stuffed peppers, meatballs, meatballs. Even the broth can be frozen for future use in ice tins, so as not to use store bouillon cubes for cooking, for example, risotto.
Another tip – if you can't avoid cooking and cleaning, do it with the child together. For example, I give my daughter a sponge for washing dishes and she washes her appliances while I cook nearby. We have a similar story with a broom and laundry.
Do not forget about yourself
It seems to me that from childhood one should instill in the child the notion that a mother should have time for herself – legal half an hour for morning coffee, for example, or lunch without interruption for cutting and modeling.
If you work at home, then explain to the baby that when the mother is working, you should not distract her, otherwise, she will have to sit at the computer longer.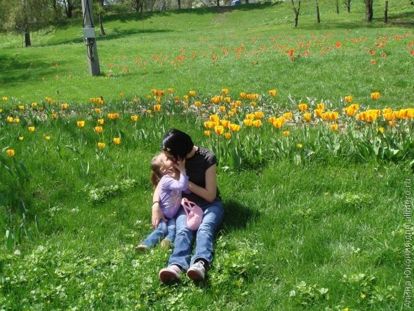 It is not necessary to compensate for the time not spent with the child with material benefits. Yes, this way you officially admit your guilt and regret for the absence. However, it is more expedient to award the child by joint reading a book or role-playing dolls instead of the ceremonial presentation of candy.
Each of us has different children with different needs. Each mother has an opinion on the amount of time spent with the child. I hope that the majority believes that this number is close to the maximum.
You should not play and walk with your child to the detriment of health, not paying attention to poor health or illness – the baby needs a healthy mother. I do not argue, it is sometimes difficult to explain this to children, but to force yourself is certainly not worth it.
What do you think, how much time should be given to the child?