The first answer comes to mind – 24 hours a day. But such an option, it seems to me, is applicable only to infants in the first months of their lives. And that, because mother needs time for herself, at least for minimal needs – soul, food and sleep.
Usually in less than half a year children are already able to spend some time alone with themselves. For this, many devices have been invented – mobiles, educational mats, arcs, etc. True, my daughter was an exception to the rule and even three mobiles did not attract her. And we bought models completely different – with a projector, music, melodies and toys.
Therefore, until the moment when my daughter started walking, I spent all the time with her. Sitting with mom in her arms was her favorite hobby! I remember I even learned to wash the dishes with one hand.
But my friend, whose daughter is one day older than mine, was constantly tormented by remorse about not paying attention to her daughter. The fact is that her baby could easily lie in a crib or stroller for an hour or even more — she was examining the surrounding objects, she was humming. I even had to bring a chaise lounge with my daughter into the bathroom and wash with the cabin door open, otherwise a cry stood on the whole apartment.
At this age, children more actively learn about the world around them, and it would seem that their mother has more time for herself and her business. I again had a different way – firstly, it was constantly necessary to ensure that the daughter did not damage herself or the surrounding objects, and secondly, she was incredibly boring to play in solitude.
Therefore, I was with her almost all the free time from sleep. Somehow she managed to work in fragments, but there was little confusion – the daughter either cried or bit me.
Toward three years, a savior came to our house – Luntik. Thanks to him, I finally had half an hour of morning time, which, with a clear conscience and pleasure, I spent on breakfast and a shower.
At preschool age, the child is already quite able to entertain himself. A daughter all evening can paint or play with dolls without my participation.
I just started earning money and I was satisfied with the fact that my daughter entertains herself. But sometimes she started torturing her conscience – especially when her daughter asks to play with her, but I refuse.
However, we still have walks, which I almost never cancel. Is that bad weather can hinder us. But in other cases, 5-6 hours daily is our mandatory program.
You know, one of my friends can not go out with her daughter for a walk for 5 days in a row. The husband brings the products, and they are at home: one at the stove, the second at the TV or computer. That's just in comparison, and everything is known – after such variants of remorse of conscience I hardly suffer.
Now, with a clear conscience, I work at home and leave to work for several hours a day (I teach the language to young children). But the rest of the time we spend with our daughter is very rich. Sometimes it even seems to me that in this way I try to compensate for my absence, I don't know.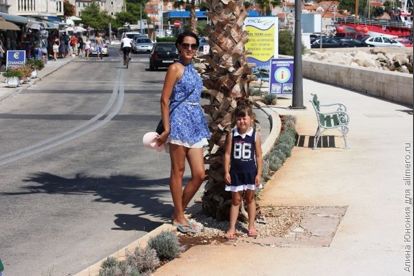 But I think it would be very difficult for me if I worked from morning till evening, then the time for walks would be short-cut and I would get tired more.
There is not much time
I believe that the more time you give the child, the better. For example, I complained that the daughter was too tame in infancy, and now she already does not want to be in my arms. And what will happen next? A few more years, and no longer really embrace, probably ..
Of course, this is not a reason to sacrifice oneself completely and spend absolutely all the time with children to the detriment of oneself. But the fact that every day you need to play and communicate with your child for at least a few hours is sure of it.
Recently I read an article by a famous American child psychologist, which described in detail the four-hug rule. Its essence is that every day a child needs at least four hugs with his mother, and it's better if there are eight of them.
Therefore, even if you do not have much free time for a child, let the joint leisure time be as rich and interesting as possible!
And how much time a day do you spend with your child?