When my boss favorably allowed me to take time off, a clear plan of action for tomorrow instantly matured in my head. I decided to spend a weekday with my little daughter and therefore did not take her to the kindergarten, which was located next to our house.
Good morning!
After seeing my beloved husband at 8 in the morning to work, I washed my face, hastily combed it and set to cook porridge. I wanted as soon as possible to get rid of banal household chores. When the milk began to boil, my lovely baby woke up, which she said loudly to the whole apartment.
– Mommy! Ma-am Go here! I want to show you something! Well, look! Can you hear me? – five-year-old Polinka cracked without stopping. It seemed that in the room with a blanket and a pillow not one single child was wielding, but a whole kindergarten group.
"Polina, wait, please, in a couple of minutes I will see," I tried to shout through my apartment to my daughter.
– Ma-am! Awww! – my beauty did not frown and cheer louder. There were already impatient notes in her voice.
Having poured the oatmeal into boiling milk and turning down the fire, I resolutely went to the bedroom. Polinka lay in her bright orange bed, wrapped in a blanket.
– Mom! Look Does a doll look like? I will soon become a butterfly with big beautiful wings! – came from a cocoon.
I smiled and then cursed when I heard that my porridge was running out of the saucepan. I galloped into the kitchen. Milk spread out in a disgusting puddle on the stove and hissed.
– A wonderful start to the day … – I was upset, – How do housewives manage to do everything: feed the children, clean the house, clean and iron? Apparently I'm far from getting the title The best mom in the world and wife.
How to cope with fidget?
My murmur was interrupted by a cat's cry, which apparently did not have time to hide.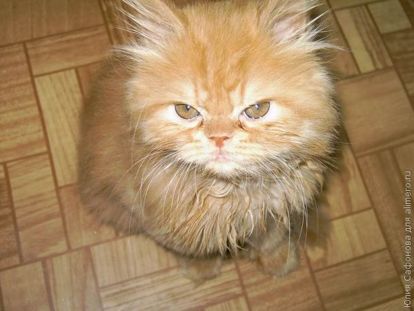 – Pauline! Well quickly let go of Fluffy! – I shouted out of habit rather than relying on my order. Contrary to my expectations, the red disheveled kitten sped past me at top speed.
While I was cleaning up the consequences of the breakfast that had run away, my child in one of her pink panties was riding on a bed that crackled suspiciously.
– Fields! Get down fast! Go get dressed and wash your face! We will eat now.
Looks like my daughter did not hear me. Filling up the ground grains, I turned on the coffee maker, and went into the bedroom to raise my precious child.
It took literally half an hour to curb the irrepressible Polinkin energy. I always ask myself: Does everybody have such children ?.
What a blessing to be a mom!
Having made three circles in the hall with a loud squeak, I caught a laughing and infinitely happy daughter. Having embraced, we fell on a sofa in a comic fight. Then another five minutes lay and whispered to each other in the ear of recognition of eternal love. Still, for happiness, a little bit is necessary – I thought.
After breakfast, we put the dirty plates, cups and spoons in the Bosch dishwasher.
– And now we go for a walk! – exhilarating my matryoshka.
– And we will do the cleaning? And hide the mess in the cabinets?
– We in the kindergarten after breakfast always go to the site, mom! – it is important and with the knowledge of the case Polina whispered, – and the mess is hiding itself. At night. When there is no one in the group.
"Let's play first," I unexpectedly suggested to my daughter, "we will look for harmful microbes!"
– They are not visible, mom … They are tiny … and you have no microscope! – my beauty was serious about persuading me.
– And I know another way! Let's go – Polina's eyes lit up.
We took two rags and scooped up 2 buckets of water.
– Here look. You see the water is clean and clear. And the dirtier the water, the more microbes in it. Look for germs in the room, and I will search in the bedroom and in the kitchen.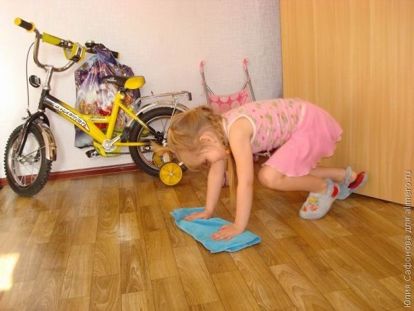 My daughter took a new game with wild enthusiasm.
Fields happily squealed when she squeezed a rag, and the water turned gray. So together we quickly brought cleanliness and tired sat on the sofa.
– Go for a walk? – I slightly pushed my child into the side.
– Yeah – in a exhaustion moaned Fields.
However, immediately jumping off the couch, she skipped around into the room. The doors of the closet clattered, fatigue disappeared without a trace. It even seemed to me that my daughter was just sitting with me for the company and sighed heavily. What are we still clever!
Half an hour later, Polina rushed carelessly from one carousel to another, swinging the teddy bear merrily, swinging down the slide and flying on the swing with her. And I sat like an ordinary mother, leafed on a bench on a bench and watched my baby with tenderness.