My daughter is still very little – she is 3 years old. Not so long ago, she began a period of independence. The baby learned to dress herself and is very proud of this achievement.
Since she is not clever enough to cope with clothes, I prefer to dress my daughter myself. She does not like this distribution of duties. She wants to dress on their own and nothing else.
When I do the cleaning, the crumb begs me with a broom or mop and with delight smears dirt on the floor. There were cases when I scolded the baby, took away the tools and did the work itself under her mournful crying.
After such cases, I was very sorry for my daughter. After all, she is such a crumb! She only knows the world, develops new skills and wants to show them to adults, hoping for delight and praise. And instead of patting my head and calling my daughter a clever girl, I scold her and show with all my face that her help is unpleasant.
I understood my mistake and am trying to fix it. I want to share my methods of maintaining the independence of the child with you, dear girls.
Now we wake up in the morning earlier than usual. Why? – take an interest you? It's just that the baby was able to dress herself. After all, she does not even allow me to fasten buttons on my pants! Rather, I do this only when numerous attempts by the crumbs do not produce results.
Imagine, my little lady even with ties on her hat is trying to cope without my help. It happens, such nautical knots will wind up, that I hardly unravel them later. In the garden, we are now going about an hour. But the baby is so happy!
Do not ask – do not go
Before, I often helped the little one: she corrected something in her drawings or took part in the construction of a toy house from the designer. Moreover, she did it in those cases when my help was not really needed.
Honestly, I myself would not pay attention to it if it were not for my husband. He often pulled me back, explaining that you should not go with the advice to where you can do it without me. Now I help my daughter only when she really needs the help of adults.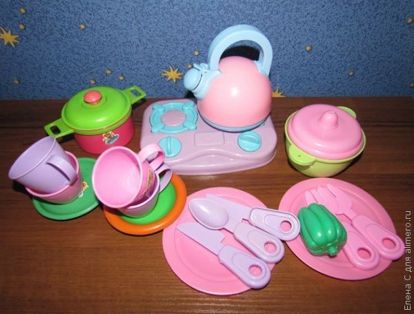 As I said, the daughter loves to help me around the house. Floor cleaning her help does not end. She loves to put dirty dishes in the sink, cutlery (except knives) in the drawer or carry clothes in the wash. Every time I praise the baby, saying how big she is and how pleasant it is for me when she helps me.
Time goes by very quickly. Every day my daughter learns something new, and I try to help her become independent.
What do you think, in what should the preschooler's independence be manifested? How should we parents encourage our little ones?