I want to share my joy. My daughter is only 3 years old, and she already knows how to count. While it counts to 15. But for me it is such happiness! Because all the mothers in my environment practically do not deal with children. They just started talking to them. And we – we READ!
How it all began
It all started with the fact that my daughter spoke very early. She was then still 1.5 years old, and she began to speak sentences. Short but meaningful. And after 2 years, I began to teach her to count.
When we went for a walk, we counted the steps. We have 5 of them in the stairwell and 3 before the entrance. We started with three. During the descent or ascent, I pronounced: One, two, three! My daughter rejoiced after me.
Then I noticed that when we are in a hurry, I sometimes forget about the bill, and my daughter counts the steps. As soon as she independently learned to count to three, I hooked up the steps at the entrance itself. There are 5 of them. So for a couple of months we have learned to count to five.
At home everything is counted, everything is recorded in the children's memory!
At home, we also began to count. Especially my daughter liked to count to 5. But while there are three of us in the family – me, my husband and daughter. Counts daughter spoons. On three of her heart stops. She puts the third spoon on the table and, lifting her eyes up, says dreamily, almost in a whisper: … four, five …. Hints at a brother and sister 🙂
And we also count chairs. Here are five of them in the house. That's right, she thinks, daughter. This is an order! Once I gave a neighbor 2 chairs, the guests came to them. My daughter thinks that there are only 3 chairs. She looks at me in amazement, at the chairs and asks where 4 and 5. Here is a little detective!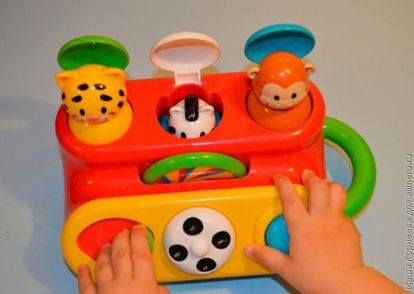 Trees love to count too
When all the steps, chairs and spoons are recalculated easily and simply, it becomes boring. Daughter's soul demanded to continue! Then one day she herself began to count the trees in the park where we walk. I counted to 5 and stopped. I thought a little and started counting again from the beginning.
I was surprised and annoyed at the same time. Well, what kind of mother? The child wants to count, and I only taught up to five! That day we learned the numbers 6, 7, 8. We did not master until ten.
But after a couple of months on the same trees, we learned to count to 15. So far we have enough. Now the daughter recounts the kids in the kindergarten, people in the queue at the clinic, and even benches in the park. In general, we consider everything that comes our way. Now we are learning the countdown. While it is given with difficulty. But my daughter is interested, so we will soon learn!
And how old are you taught to count your babies? How did you learn them? What is interesting considered?