I have long come to the idea that the main drawback of national education is that a lot is being done under a stick, for a tick, and all this makes me sad.
Therefore, I decided to study with my child with the help of games, plus immediately showing a practical sense of new skills. And, most importantly, without much straining. If not in the mood – not forcing. But if you suddenly come to taste – I give up everything, and we do it until I get bored.
Stuck on the front pages



My daughter and I first took up the primer when she was four years old and a little. It was the primer of Nadezhda Zhukova, who was recommended to us by everyone: from the Ministry of Education to more experienced parents.
The first couple of classes were a great success. There it was necessary to read the whole page to read the letter A, then big, then small. She really liked the child, she felt that she already knew how to read, and it was so nice to brag to her friends: I already know how to read.
But literally from the third lesson there were problems. Putting letters into words was not as easy and interesting as repeating the same a. And to be honest, having noticed changes in attitudes towards the primer, I did not forcefully drag my daughter to the book. I understand that it is also important to instill an interest in reading. And how can you achieve a good relationship with the book, if you have to get acquainted with it from a stick?
We waited a year, and returned to the same Zhukovsky primer. History repeated: I didn't want to put letters into syllables. After several lessons, one kind of green book caused a storm of emotions in a child. I understood that it would be impossible to postpone studying for another year: soon to school.
We studied at the local material


First of all, I decided to remove the primer from my eyes. I wrote the completed letters and syllables on cartons about 3×3 cm in size. In addition to the materials used in the approved manual, I added short words from familiar syllables.
Whole words that have (as opposed to syllables) sense, more liked my daughter. So we moved on: I secretly peeped into an ABC book to find out what syllables were there further down the program, wrote them on cardboard boxes. My daughter read syllables.
At the same time, we tried to use new syllables right away to make the most of it with meaning, making up short words: noise, ball, fly. Strange, but not all of these words were met in the textbook.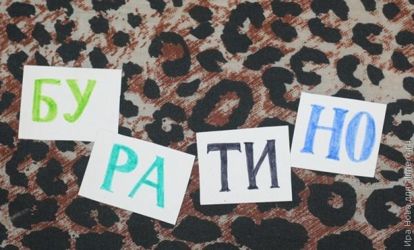 When the letter supply of the child was enough replenished, we began to move on to short sentences and words from the outside world. These words were the names of cartoon characters, girls, boys, dogs and cats. All this was close to the child and caused only positive emotions.
I tried to write sentences funny, they should not have left the reader indifferent. Well, who cares that mom washes the frame? And if from two sentences it turned out a story that could be developed verbally, it was absolutely wonderful. Mu-ha y-ku-si-la word. The elephant is crying. Then we discussed how to console an elephant, how to punish a fly, and came to the conclusion that it would be good for everyone around to be friends.
Letters were all around us



When we met with almost all the letters, Zhenya was interested in signs on the streets and inscriptions on packages with products. At that moment it was important to show that being able to read is a must, otherwise you will not know what ice cream is with and what is put into your favorite pizza.
The next stage was a game with words. We had a set of stickers, I thought of the word for one of the images, drew cells, like in the Field of Miracles. My daughter called the letters, and when she guessed the word entirely, she stuck a picture under it.
Children generally love stickers. We had another game with them. I drew a house, and above it was a sign who lives in it. Zhenka needed to read the name of the tenant, and then paste the corresponding picture. If the house turned out to be a shop, then all sorts of products and other goods were stuck into it. So we painted small towns.
As a result, we went to the books, where little is written and a lot of pictures. Ideally, the book was thin. It's so cool when you can tell your grandmother: And today I read the book myself from beginning to end !.
And how did you learn to read? What tricks did you use?