I began to acquaint my daughter with the numbers very early, a year and a half. The first acquaintance with them took place thanks to children's rhymes. Who does not remember: One, two, three, four, five – a bunny went out for a walk?
Now my daughter is 5 years old and she freely counts up to 100, subtracts and adds numbers within 20.
Everyone knows that children better assimilate the information that they receive during the game. That is why classes in kindergarten often have a game character.
To classes with a baby bring joy and give good results, you can not put pressure on the child. If he is not in the mood, it is better to postpone classes for another day. If something doesn't work out for a child, try returning to this issue in a couple of weeks.
Once I heard a brilliant phrase: It is necessary to teach a child so that it never occurred to him that he is being taught. I tried not to forget about it when I taught to count my daughter.
We count on a walk
When my daughter just learned to walk, she really enjoyed going down and up the stairs. In the elevator, she flatly refused to go, raising an eerie cry for the entire entrance. And I couldn't take her in my arms either. I had to go down from the 10th floor, holding the baby by the handles and insuring against falls.
Stamping the stairs, I sentenced one, two. My daughter repeated after me and soon considered herself. Then I added one more digit, then another. Soon the daughter proudly went over the steps with small legs, concentrating on counting first up to 5, and then up to 10.
During the walk, we considered everything that caught our eye: the seals sitting at the entrance, the wheels on the playground and the pigeons that we fed with bread.
First, the daughter mastered a quantitative account (one, two, three, four.), And later a qualitative one (3 kittens, 4 pigeons).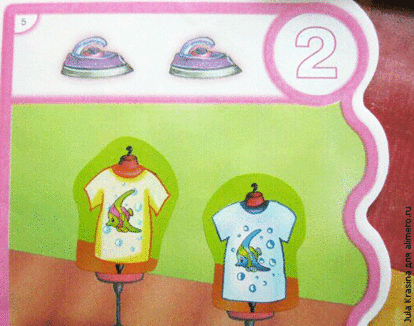 Books to help
Every time I read a book to my daughter, we counted all the objects shown in the illustrations. Especially my daughter liked to count the characters Repki. You can count anything: sprigs of a tree, flying birds and even a page.
At 3, I bought my daughter a book to study numbers. Stickers were attached to it, which the baby was very fascinated by. I buy such books to her so far, only mathematical operations in them are much more complicated.
When my daughter and I were engaged in drawing, I played the role of a teacher, and she – schoolgirls. My daughter was supposed to portray the number of items that I call. For example, 5 stars or 3 apples. In this game we are playing with it so far.
And at what age did you start teaching children to count? Did this activity attract them?