I am always interested in the health of my child. We do not have chronic diseases. There has never been a viral infection. But on examination in the children's clinic, the pediatrician began to find fault with me!
Carping pediatrician


At the next examination, our new pediatrician looked askance at me. With the question: Do you see that baby has flat feet? He began to fill out something in the card. He said that I am an irresponsible mother, I am not engaged in a child. And I almost had to come to an orthopedist from birth!
Now, it is necessary to go daily on the procedure. The pediatrician insisted that we buy a special mat. I was so annoyed by this conversation, or rather, even a monologue. After all, only the doctor was indignant. And I, such a unlucky mother, just was silent.
Sent me to the orthopedist. Frustrated, I entered the office. Honestly, I had no idea what is flatfoot. I think that an expert will tell me about it. I gently asked what I should do and where it came from.
The doctor, looking at my frightened eyes, asked if I had flat feet. I replied that I did not know. Then, looking at the feet, we determined that it was not. It's okay, you just need to do exercises, massage, often go barefoot, explained to me. And I was scared!
I really wanted to go home as soon as possible. Why did nobody tell me about it before and did not see this flatfoot? I decided to go on the Internet and google. There is conflicting information on various forums: someone heals, someone doesn't. Some moms and mats special buy, and shoes only orthopedic. Well, I'm not like that. As the pediatrician said is irresponsible.
I do not want to go to the clinic. You can do the treatment at home. I decided to do some exercises. And also massage the feet. Some mothers wrote that they did a lot, but flat feet did not pass. But you still need to do the son.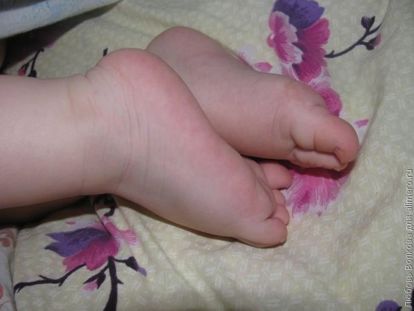 It is good that we live in a private house! In the fresh air the child is very good. So my husband and I decided to start the sand, make a sandbox. First, the toddler will play, and secondly, will run on the warm sand barefoot! Also bought pebbles, that is, small stones. I scatter them with sand. And do not need to buy an expensive mat from flat feet.
What exercises do I do? Kata foot a small ball. I use: plastic, tennis, with pimples. It should be small to fit under the bulge legs. I try to pull my son sock, that is, pull the leg. Still pulling the legs from the inside to the outside.
As for me, the result is already visible. My son's leg is not so flat. I continue to do massage and exercise. When it's warm or even hot outside, we walk barefoot on sand, stones, green, lush grass.
Did your babies have flat feet? How did you deal with this?