Our winter holidays have almost come to an end – it remains only to go through two more weekends, and that's all – hello, kindergarten!
Winter fun

No, of course, I like holidays and weekends, only until they turn into a daily exhausting job. The day off in my understanding is silence and the opportunity to sleep. But no – from the very dawn, the child comes to my side and starts spinning and jostling.
I just can not wean him from this habit – he sleeps all night in his bed, no screams and hysterics, and in the morning he visits me. Sometimes a blanket is dragged from me, wrapped around like a cocoon, and sleeps for a couple of hours, and sometimes it comes and starts spinning, something mumbling to itself and, in general, it interferes in every way with the dream.
We have to get up, chase, then go to wash, because there will be no sleep – I just will not be allowed to sleep. Hearing and seeing that I finally woke up, babe starts to chirp already loudly. He is echoed by a cat demanding to be petted and poured for breakfast.
All week I did not work, although I honestly tried to make time. First of all, there is no mood (what kind of mood is there when they raise neither the light nor the dawn and require increased attention), and there is no time. First, washing, brushing, changing clothes, then cleaning toys and cleaning the bed. Then breakfast.
Then washing the dishes (that is why he likes to wash the dishes, and you can make him take away his toys with him only by threatening him with a corner or depriving him of sweets?). and only after all of the above, leisure begins.
If the weather is not flying, you have to seek out entertainment within four walls. Usually, the child draws (in these two weeks, we now have a whole album of watercolor monsters, robots, dragons and machines) or put together his designer. Recently, my son woke up a thirst for construction. Towers and garages for machines are built from any material at hand, ranging from the machines themselves and, in fact, the designer, and ending with books.
In addition to all this, at least half an hour a day it takes us to repeat the learned material and the recipe. We repeat letters, numbers, sounds, names of wild and domestic animals, bow words and remember the correct accents and endings. In general, active brain activity, because I think that a child should not only spend his free time thoughtlessly, but also consolidate the knowledge gained and learn something new.
Here the other day began to learn a new poem. Come to the garden – boast. Well, besides this, of course, walks in the fresh air. Two days, however, almost did not go outside – the temperature dropped to minus twenty. But today it is already warmer (if you can talk about winter at all), and even the snow was falling.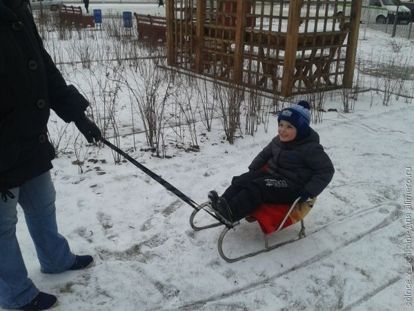 Son happily sledding. Moreover, while I was running to the store, he and my beloved man managed to make a snowman (this is in ten degrees of frost). I appreciated. Both are great – at home then all the batteries are hung with caps, mittens and jackets. But the child is fun – this is important.
How do you entertain children during the winter holidays?