Moving How many emotions cause only one mention of him! We, adults, usually plan to move in advance, prepare for it, realize its necessity, and, nevertheless, we can not calmly relate to such an event. What about the baby? How does he perceive the move?
Learn from the mistakes of others

We first met to move when Katyushka was less than four years old. A year before, my brother had moved. The youngest of my nephews, who was about two years old at that time, practically did not notice the move. But the older, five-year, hard to endure this event.
At the time of the move, both children and their mother lived with their grandmother, and did not participate at all in the preparation of such a grand event, or, especially, in its implementation. My brother brought his children to a new apartment only when everything was completed.
For a five-year-old child, this turn of events caused real stress. He had been angry with his parents for quite a while until he got used to a new home. He was not pleased even by the fact that he and his brother had their own room. And only six months later, when the stress passed, he realized all the advantages of the new housing.

How to prepare a child to change the apartment

Considering the difficult experience of my brother and his wife, I decided to prepare my daughter for the move in advance. We had enough time, so I started from afar. We re-read those fairy tales where Cinderella (Vasilisa, Tsarevna, Princess) moved to a new house (castle, palace). I focused on moving, and invariably my daughter and I fantasized how it could be.
Then the conversation was translated to the fact that the heroine of the fairy tale, of course, in the new house will have its own room. Naturally, I was teasing Katyka a little, saying how wonderful it is when the Princess has her own room. Katya always sighed (we lived in a one-room apartment at that time, and my daughter had only her own corner), and very soon said: I wish I had my own room!
I promised her that dad and I would think about how to arrange this. After that, talk about moving began to be conducted more specifically.
A few days later we told our daughter that we would move to a new house, where she would have her own room. Katya was delighted! We immediately took her to a new house and showed our future apartment, and the room where we planned to make the nursery.

Child's participation in the move

The husband offered to send his daughter to her grandmother at the time of the move so that the child would not have to sit on the suitcases. But Katya categorically refused! Remembering the experience of my nephew, I supported my daughter. Of course, the presence of the child during the move delivers unnecessary trouble to the parents, but it saves the child from unnecessary stress.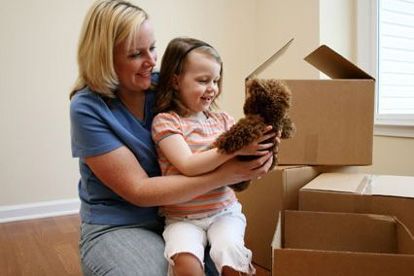 All the packing of things fell mainly on me, and I decided to actively involve Katyushka in these concerns. I trusted her to pack her own things and toys on my own, which she did with great pleasure! In the evening, she invariably reported to her father that she herself had packed another box, and she and her father solemnly sealed it with tape!
So, the week flew by and we ordered a car for the weekend. Immediately on the day when things were being transported, Katya was with her grandmother. But the next morning we brought Katya to a new house.
It took much longer to unpack everything, but Katya took an active part in this too. For her, the move was just a grand event. But the most important thing is that she took this event as a great adventure, which caused only positive emotions.
Now the daughter has her own room, which she loves very much and in every possible way tries to equip her.
Based on our experience, I can say the following. It is not necessary to keep the child in ignorance regarding the move. And if the child has a desire to take part in the preparation of the move, then let him participate! Of course, this is unnecessary trouble for the parents, but for the child it is a great adventure, and let it be pleasant!