Today, parents have plenty of opportunities to organize children's parties in a cafe, but personally I prefer to celebrate the birthdays of my children at home.
I do not like the fact that we have to limit ourselves to certain time frames, as well as the presence of unauthorized people. Many children are shy in public places, do not enjoy the holiday.
I think that at children's events the main thing is that the guys could throw out their energy, just to get mad from the heart. Even the presence of clowns does not save the situation, since these hired people work for a maximum of half an hour or an hour.
So I always celebrate the birthdays of children at home. Of course, it is necessary to organize an event, spend time and effort, but, as they say, this is only once a year. I never cook a bunch of delicious dishes that children cannot appreciate. It is enough to cook one hot dish, most often from chicken, which all children love, to order a big cake, to buy juices and fruits in sufficient quantity.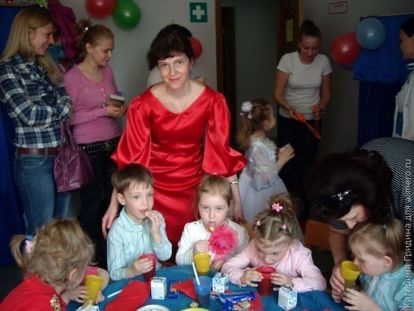 But I thoroughly stock up with other things, buy a variety of low-cost prizes for contests. Each species must be purchased immediately a large number, so that children do not have feelings of jealousy for friends, disputes and offenses.
Contests at children's parties are always a great success, little guests get great pleasure from them. I have a common notebook, written with funny tasks, musical performances, sports competitions, contests, poems and riddles.
I usually alternate free games and contests so that children do not get tired of paying attention to them. It is necessary, after all, to give them both freedom to practice, and time for snacking and tea drinking.
I want to cite several contests that are especially popular among our children:
1. I set the word, and the children match the rhymes to it. Who will find more rhymes, he won.
2. Competition for collecting puzzles from 50-60 parts between children or teams.
3. Throws the ball into the basket or ring for accuracy.
4. Competition drawings blindfolded.
5. Children with blindfolds compete for the transfer of water from glasses to other containers. Very fun contest.
6. Competition for the implementation of tasks. In the bag we fold the pieces of paper with the tasks, and the children take turns in taking them out. Tasks can be very different: clean the potatoes, wash the dishes, read a poem, sing a song.
7. I propose a set of letters, and children come up with words consisting of them. Who will come up with more words.
As you can see, children do not get bored.