Summer is a great time to start tempering procedures. Well, those mothers who practice them all year round have many additional features that are not only useful, but also interesting for the child.
Hardening is an increase in the body's resistance and its resistance to hypothermia and overheating, which entails strengthening the immune system as a whole.
Also hardening is a way of life, not a schedule of procedures. After all, there will be little sense from, for example, cold douches, if you continue to muffle the child and put a hat on him at a temperature of 20.
Do not be zealous with its quantity. If the heat in the street is above 30 degrees, then you can do without socks, and a cool evening summer evening is not a reason to get a vest and sneakers from the hidden things.
Dressing a child of preschool age should not be warmer than themselves, and sometimes even easier – after all, children lead a rather active lifestyle, are constantly in motion.
In the warm season (and in any other, however) you should use cool water for washing – 25 degrees, not more. Such a shower perfectly tones, energizes, strengthens blood vessels, helps maintain skin and muscles in tone.
In the summer you can take a shower not twice a day, as usual, but after the morning walk or whenever your heart desires. What could be better than a cool shower in the summer heat? Combining business with pleasure!
Unlike many other mothers, I absolutely do not forbid my daughter to frolic around the fountains, provided that it is hot outside. Moreover, in our district there are a lot of green areas in which regular watering is organized.
To be honest, I didn't even have an idea that this harmless entertainment could contribute to a cold. On the other hand, the abundance of positive emotions also helps to strengthen the immune system of the child, which is also important.
In case the baby is soaked through, I often have a set of change of clothes with me, and we usually walk close to the house – you can go in and change into dry clothes. Although, now we are so hot that clothes dry instantly.
I am surprised to see how, in the thirty-degree heat, mothers stubbornly continue to protect babies from cold drinks and ice cream. One of my friends is warming everything in the microwave all year round, even fruit and cottage cheese, I think this is fanaticism.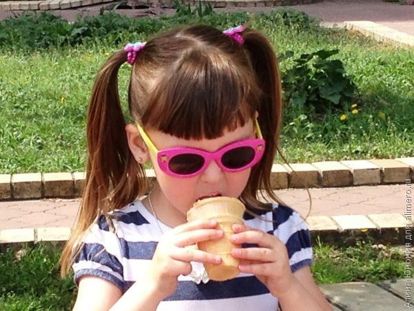 At our place all the water is in the fridge, moreover, before going outside I even put my daughter's bottle in the freezer specially to keep it cool longer. Yes, and I myself prefer to drink water close to ice (by the way, sore throat has never been sick in my life).
I am slightly skeptical about ice cream – firstly, I myself don't like it at all and don't understand this addiction, and secondly, the composition of this cold delicacy leaves much to be desired. However, I allow my daughter to eat it almost every day, and especially tasty and 2 packs at once.
Water procedures are present with us and during the rest at the dacha – my daughter splashes every day in a small pool, the water in which I don't warm her, but pour cold water straight from a street tap.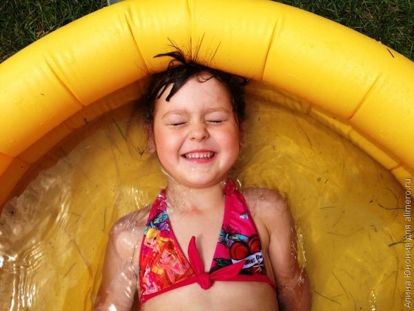 Under the sun the water heats up slightly, I think that is enough. All day we splash, and pour ourselves on, and bathe everything that comes hand in hand.
You should not turn the child into a greenhouse plant, expressing a wild protest at the sight of cool juice and fainting at the sight of a child who is splashing in a puddle.
It is not necessary from the very early childhood to protect the child from the horrors in the form of cold apples or ice cream. And when, if not in summer, enjoy the refreshing taste of cool delicacies?
And how do you harden children in the summer?