I developed a persistent aversion to such procedures, which traditionally belong to the tempering. For example, dousing with cold water. Moreover, I would never water my children with ice-cold water. But at the same time, I want them to grow up healthy, and in this case you cannot do without tempering, so we made it a way of life.
Once we lived in a one-room apartment, whose windows overlooked the sunny side. This means that in the summer after 15-00 it was impossible to be in it, and in the winter the batteries were fried so that we had a stable 30. I now even imagine the terrible thing that was being done in the child's nose at that time.
Now we have another apartment and in it I tried to create more healthy conditions. I have an airing mania, it is always stuffy for me, and therefore the window leaf is stably open somewhere. If we go for a walk, the windows open in all the windows and everything is ventilated. Due to this, our temperature is kept at around 22-24 degrees.
I am also manic about walks, I think that it is necessary to go for a walk in any weather. In addition, I have an older daughter, for whom we go to school, and also take her to English and to the pool. Even if it is snowing, raining, hurricane winds, I have to equip the stroller with the younger daughter and run after the older one. This is a positive point, we can not avoid walking.
I am not a fan of Komarovsky, but I know that he advises bathing children in cool water. I can not decide on this, I draw water somewhere around 35 degrees. But then my children go to the pool, and there the hardening happens automatically. With the youngest we still visit the sauna. It seems to me that such a change in temperature from cool to hot and back is a good exercise for the body's defenses, especially in winter.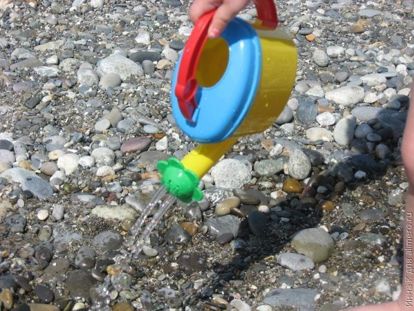 In the summer we go to the sea. Black Sea – this is not Turkey, rarely when the temperature in it rises to 30 degrees, most often 26-28. This means that while bathing in it, we also harden. By the way, today my eldest daughter has set a personal record – plunged into the water with a temperature of 21. So will become a walrus!
I also try not to muffle my children. We all walk at home barefoot, which makes our grandmother horrified, and she regularly gives everyone slippers and terry socks. The youngest, in my opinion, is generally a unique one. Imagine a room with a temperature of 22 and a child in the same swimming trunks. I can't look at her at all, but don't wear anything on her.
I think that she still has an organism with normal thermoregulation and should not spoil it, kutaya into something warm.
Food from the fridge
They say that the throat of a child can also be hardened. Therefore, if I take something out of the refrigerator (fruits, vegetables, for example), I do not warm them, but immediately give them to children. It may seem strange to someone that I am talking about this, but my mother-in-law heats everything in the microwave that is meant for children. Even drinking water gives room temperature.


findings
Hardening a child is not at all as scary as it seems at first glance. One has only to reconsider some moments of your life and everything will turn out by itself.
Do you temper?