I believe that before school parents should focus on the physical development of the child. Scientists have proved that at this age (and especially up to 3 years), physical development stimulates mental development. But my daughter, unfortunately, does not want to do exercises, is constantly distracted by other activities and screams if I try to press her.
To save my nerve cells, I came up with a gym at home, so to speak. All shells are made from scrap materials and interchangeable. Charging now lasts not 15 minutes, as before, but a whole day. That is, my daughter and I do some exercises during the day in a playful way. For example, in order to learn how to throw objects with both hands, we collect toy fruits and vegetables in a basket, and then we throw them supposedly into a saucepan and boil jam. Just like Masha from our favorite cartoon Masha and the Bear!
I conditionally divided sports games on:
Games for the development of general motor skills;
Games for the development of fine motor skills;
Games for legs (for the prevention of flatfoot).
So, here is a long incomplete list of our sports games:
General Motility
Swing on the swing;
Ride a bike;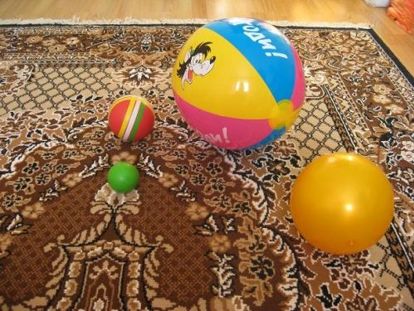 We crawl through the obstacles (we lay pillows on the floor or folded blankets at different distances from each other);
We walk on the hands;
We walk on an inclined surface (I put a wide board on boxes of different heights);
Inflatable horse (jump, sitting on the pope);
Hill (putting a wide board to the sofa);
We throw balls into a basket or basin and transfer them from one place to another (2 coxae);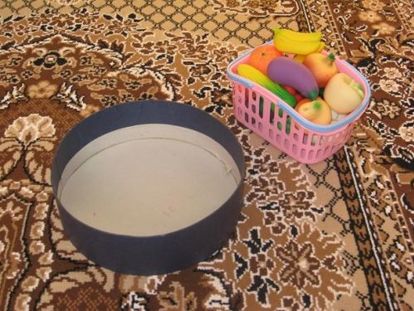 We develop lungs (dudim in pipes and blow soap bubbles);
We step (we lay out the bricks or boxes from under the tea on the floor at different distances from each other);
We stretch upwards (we hang out the washed clothes on the dryer);
We walk on a bounded surface (narrow board, glued tracks from cubes with scotch tape, clothesline);
We run (we play geese, we run with developing ribbons);
We jump from the elevation (Ikeev support for legs).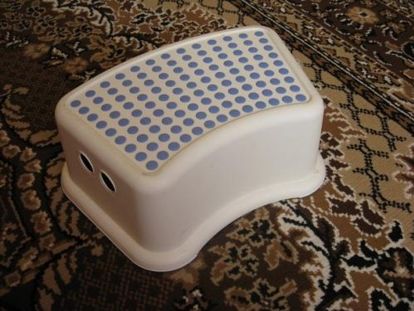 Fine motor skills:
Massage of the hands;
We make a pyramid (we string the rings on the rod);
We put in and lay out the caps, bochata, nested dolls;
Sorters;
Glue stickers;
Choosing cereals, nuts, buttons;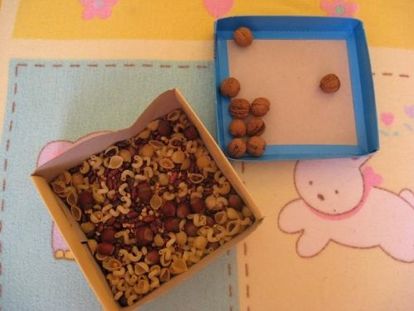 We put nuts, buttons, pebbles in a bottle (with a narrow neck);
We mix the dough and pinch off the pieces;
We learn to fasten / unbutton buttons, lock, velcro, tie knots on laces.
Games for legs:
Foot massage;
Walking on the grass mat;
Walking on the orthopedic track;