We have a real spring for several days now. Yesterday afternoon it was already 20 degrees. Therefore, we spent half a day on the street. During yesterday's walk, it seemed to me that my son had grown wings. We have already dressed spring boots and jeans with a windbreaker. He had so much energy and movement. He was running, jumping, fooling around.
Now, involuntarily, one has to invent what to occupy the child on the street. Today I want to tell the options of games if the child goes only with his parents, i.e. without friends and girlfriends.
This kind of entertainment takes first place among us. We always enjoy playing in the sandbox. We make koloboks, we make paschka. And if the sand is dirty or wet, then we just gather the ground in a bucket near the sidewalks.
2) Description of surrounding objects
Very often, on the way to the kindergarten or the park, I try to name my son as many objects as possible that surround us. It increases his vocabulary, imagination and develops the mind. I tell, for example, spring has come, the first grass and leaves on the trees will soon appear. Everything will flourish, and you will admire the first flowers, etc. Thus, we try to remember the seasons and the name of many items. We now know almost all brands of cars. I did not try to make a motorist out of a son, it just happened by itself. I carried it to a separate point, because This is important. Recently, we walked with a friend and her baby, and he spoke some incomprehensible words to all subjects. When I asked what he said, she said that the son calls everything with his childish words. I do not understand if this is a machine, then this is a machine, and not qia-cia or tr-br. Why teach a child and then retrain him?
It seems to me that all children love to ride on a swing, jump on trampolines or climb in labyrinths. We are not an exception.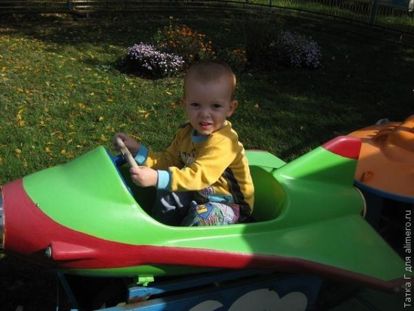 4) Outdoor games
There is one very good game called Who goes like that ?. We play with the son, he really likes. Its meaning is to depict some kind of beast or technique. At first we are bunnies or bears, and sometimes planes or soldiers. And we play with him one by one, first he shows what I have guessed, and then vice versa.
5) Feeding animals and birds
This is one of the most favorite activities. We have a lot of pigeons in the central square, so we specially drive to feed and drive them. We also have all cats and dogs in our yard. I take the child from the garden, we go to the store, buy sausages and feed homeless animals that we meet along the way.
The son and dad play football, sometimes just throwing it from hand to hand and the kid tries to catch him. Today, for example, we had small balls-jumpers that flew all over the square, and then he caught up with joyful cries. You can arrange a competition: who will throw the ball further or higher.
7) Walking through the puddles
I am a restless mother, so last year I carried the baby through puddles and scolded in every possible way when he entered into them. This year we bought rubber boots. We first measure the depth with sticks so that he does not scoop water into boots with riding, and then we run through puddles. Washing, of course, I have doubled. But you have no idea how much happiness was in his eyes, when we said that you can go to a puddle. And, alternatively, a wet sole leaves a mark on which parents can catch up with their child.
Even the simplest and most fun for our kids will be playing hide-and-seek, catch-up and jumpers. It seems to me that it is necessary not only for the child, but also for the mother to actively spend time on the street, and not to sit on the bench and talk with other mothers. After all, the child's childhood is one and he must remember it with his laughing parents.