I still remember my childhood very well, a special place in the memories is occupied by yard games, mostly team games, although it was sometimes fun to play alone.
Now I look at the kids in my yard and notice that for some reason they play very little with each other. That is, they run, of course, in catch-up or zombies, they build castles in the sandbox. But it is precisely organized games, with complex rules, I do not see.
But so many of them! I will list my favorite ones, the names and rules may be different from those known in other regions, but I think the general sense will be clear.
Tukita for herself


This is a variant of the game of hide and seek, when to win you have to knock, that is, at a convenient moment, jump out of the shelter, reach the designated place, touch it and shout Tukit for yourself!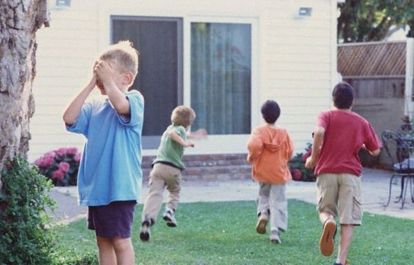 If the presenter has found you before, he runs to the same place, touches and shouts Tukita Dasha! (name of the found player). Such a game is much more interesting and more dynamic than ordinary hiding.
Players are divided into two teams, face each other, holding hands. The first team shouts Chains-forged chains, break us !, the other shouts in response: Which of us ?, the first choose a player from the second team.
The player runs and hits the linked hands of the opposing team. If it turns out to break the chain, it takes one player and leads to his team, if not, it remains himself.
Paint in the box
Well, this game is exactly everyone knows. Devil, brush and paint. A lead brush fixes a color to each player, a devil comes in, a long and fascinating dialogue occurs: Tuk-tuk – Who is it? – It's me, little devil – What did you come for? – For the paint – For what?
The little dick calls the color, the player comes out, who got the color from the lead, and runs away, the dick gives him a little head start, and runs after him. If caught up – the paint becomes a devil, and if not – all over again.
In general, we had a great number of games, there is no possibility to describe everything, I will simply list: Cossacks-thieves, a ring come out on the porch, fire, day and night, a traffic light, a bouncer, a desyatochka with a ball, a square, rezinochka, classics and a lot more.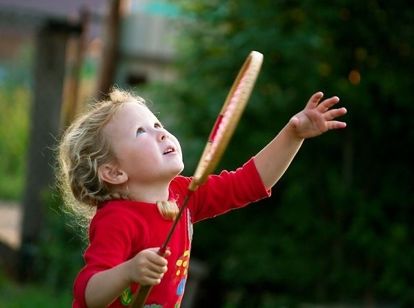 Well, singles are simple and straightforward: rummaging in the sandbox, doing secret in the sand, imagining yourself a spy, a traveler, playing with a ball, hoop, jumping rope.
By the way, today I was walking with children, my daughter offered to play catch-up. And with great difficulty I caught up with a four-year-old child!
I'm getting older, it remains only to share the experience with the younger generation, I have already taught the yard kids a couple of our games, waiting for them to come for new ones.