All kids love to sit with their mothers in the kitchen. But how to occupy the child, so that the benefit was and the safety did not suffer? Outdoor games banned immediately – then mom goes with a knife, then butter in a frying pan bryzhet … No, here you need something else!
Cooking pizza

There are wonderful sets of play-doh plasticine. One of them, Pizza, is a real magic wand for the kitchen. While the mother is cooking, the child is cooking too.
Soft, bright, he will long captivate the child. And the stacks and tins included in the set will make the game infinitely diverse.
Sweet sausage

Cooking sweet sausages can be trusted to the child from the very beginning to the end. Only cookies will have to break, not rubbed on a grater. True, it is worth preparing for the fact that most of the cookies do not fall into the plate, but into the baby's belly.
Cinderella

Remember the story of Cinderella, who was supposed to make out the cereal to go to the ball? So – this is a great kitchen game!
My daughter and I love soy, but bad luck – what is sold in our city, 20% consists of garbage. And in the literal sense of the word – there is a husk from seeds and even pebbles. Therefore, each time before cooking soy should be sorted out. My beauty does it with great pleasure!
Well, you can offer your baby pasta or grits.
Mix your colors

Speaking of pasta. Great kitchen game – paint pasta, string them on a string and make beads for mom as a gift!
As an option – to make magic nuts, wrapping foil with walnuts. On the one hand, a thing is useless, and on the other – a great Christmas-tree decoration!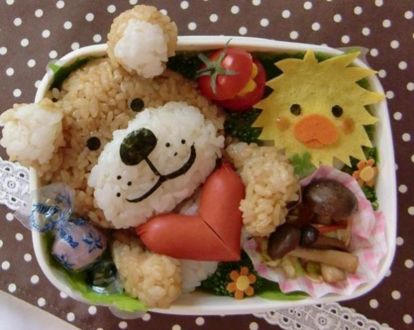 Bento

When we are going somewhere to rest, we take bento with us – homemade dinners. I am a big fan of Asia (for good reason I have lived side by side with the Japanese, Koreans and Chinese for 20 years), my daughter too. Therefore, we are preparing not just sandwiches, but rolls and onigiri. In addition to eating them, sitting down on the grass in some square, is very convenient, they also look aesthetically pleasing.
And even the smallest baby can decorate the dish and help to cook it! And may it not meet the canons, but it will give pleasure for sure!
Riddles

Well, the simplest thing you can play is riddles. Do you need, for example, a bow? So let the child bring it to you. Only not just like that, but guess! Think of how to explain what you need without naming the subject – and the kid will be grateful for the fun game.
In fact, the games in the kitchen just do not count. Any help for mom for a child is a game. And if also with a smile, a song or a poem – his joy will have no limits.