Honestly, even now, when I'm already an adult, I'm sometimes afraid to be alone in an apartment. And what can we say about children, for whom a lot of things are not clear, and it seems to me that there are no less fears than our parents.
The daughters of my girlfriend are 3 and 7 years old, the girls get along well with each other, can play for hours together and do not always notice the absence of their mother, who periodically left them for 10-15 minutes alone at home.
She explained her behavior by the fact that it is necessary to walk a dog or run to the store, and sometimes they are going to collect children for a long time, then they are late in the kindergarten school, then they don't want to go out.
Once during her absence in the house the lights were turned off. Of course, no one is immune from this, but, firstly, the children were very scared, and secondly, I'm even afraid to imagine what it would be like if mom was in the elevator at that moment.
Another friend of mine can quietly go out during the afternoon sleep of her son to the street – to the pharmacy, to drink coffee or for some other business.
Her iron argument He does not wake up, sleeps for two hours, I do not understand. To be honest, I'm even afraid to take out the rubbish, so that I don't leave my daughter alone in the apartment, and then – to the pharmacy …
My dacha neighbor quietly leaves her son, who barely turned 12 years old for the night, or even more, while she needs to go to the city for work or second child's affairs.
During her absence, the boy has fun to the fullest – starting with alcohol and ending with hide-and-seek games on the roof of a three-story house. Here, of course, the lion's share of the reasons for such behavior in education, but the fact remains.
Despite the fact that a brick doesn't just fall on its head, we cannot predict even the nearest future. You can give a damn about yourself, but not thinking about children is blasphemous and cruel.
There are a lot of options for the development of events – an accident, a heart attack, an attack, but what can happen to my mother, who ran out for bread for a minute.
Perhaps I'm a panic-monger, but once I even made a scandal for my husband when he locked my daughter and me at home, accidentally taking my keys. My arguments were, at first glance, fantastic – what if the neighbors had a fire, and we cannot leave the apartment, or my daughter suddenly became ill, and the doctor would not enter, etc.
Still age
I believe that a child who is at home alone must be able to fully serve himself – from toilet and food to a telephone call if necessary.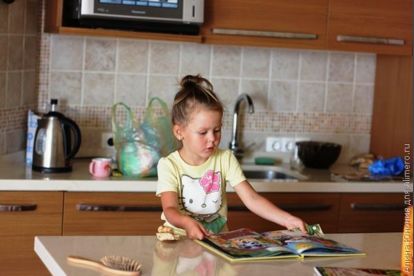 It seems to me that the minimum age of a child, who, as a last resort, can be left at home alone – 8 years old, is not less.
Of course, about 20 years ago, first-graders went to school themselves, but now the time is completely different. Sometimes you do not even want to watch the news, so cruel stories in these programs, immediately there is a desire to be with the child for several years to 18, or even longer.
For example, in our area a few years ago there was a case when mother and daughter were returning home, they decided to race to get up – the daughter on the stairs, and mother on the elevator. While my mother was waiting for the elevator, my daughter was raped. Here, just no comments.
I believe that there is always a choice. Again, recently there was an article in the newspaper about how while her mother was going down to the store (which is on the 1st floor of the house), her two-year-old daughter fell out of the window. Here, 100% of the mother's fault, which later told me that it was hard for her to carry the child, but she had a choice.
Of course, it is good when there is an opportunity not to work or work at home in order not to allow the child to stay at home alone. In any case, the task of parents is to reduce the amount of this time to a minimum or eliminate it altogether.
After all, you can always ask to secure a girlfriend, a neighbor or someone from relatives. Do not hesitate to ask for help, because not only the health but also the life of your child depends on it.
What do you think, at what age can you leave your child alone at home?